Apple: White iPhone 4 Delayed AGAIN
Recently promised for late July, Apple just delayed white iPhone 4 again.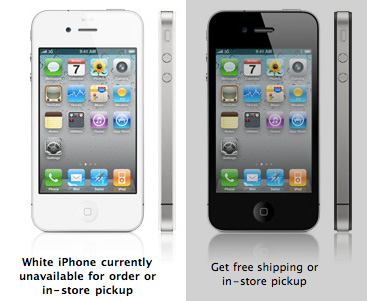 Apple just announced in a statement: "White models of Apple's new iPhone 4 have continued to be more challenging to manufacture than we originally expected, and as a result they will not be available until later this year."
White iPhone 4 Goes Duke Nukem Forever
White iPhone 4 is quickly becoming the Duke Nukem Never of Apple iPhones. Apple's popular smartphone continues to have a wait list of 3 weeks due to its popularity, but the rare white iPhone 4 is still impossible to buy at this time.
At iPhone 4 pre-order in early June, some merchants mistakenly thought iPhone 4 will be available at launch date (although Apple said it won't).
On June 23, Apple announced that due to manufacturing challenges, white iPhone 4 will not become available until second half of July.
Now the white iPhone 4 is expected "later this year." Maybe it'll be released when iPhone 5 becomes available next year?
Why is White iPhone 4 Delayed?
It is rumored that the source of delay is due to Apple wanting very high color consistency that has not been done in the industry for the iPhone 4. So, please don't hold your breath if you want the white FaceTime calling Retina display iPhone 4.
Black iPhone 4 continues to be available for order from Apple's online store, for free shipping or in-store pickup.
via apple

Related Posts