Apple Releases New Mac Accessories: Cinema Display, Magic Trackpad, Low "Vampire Draw" Charger
New Apple computer accessories from the maker of the popular iPhone, iPod, iPad, and Mac running OS X, including low "vampire draw" battery charger.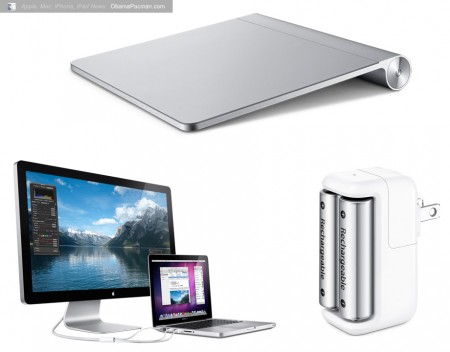 Now we've stopped drooling over the new Apple releases today, here's a summary of the new Apple accessories for Mac (and possibly PC, but why would you?).
Apple Battery Charger / AA Rechargeable Batteries
A notable low-profile, inexpensive new Apple product released today is the Apple rechargeable battery.
Apple has always been at the forefront of mobile battery technology, with long battery life iPod, iPhone, iPad, and Apple laptops. Now the Cupertino company is also making Apple rechargeable battery and charger. Now Apple just got into the rechargeable AA battery business to compliment its portable battery consuming Mac accessories.
Apple low "vampire draw" battery charger comes with six rechargeable AA NiMH batteries.
Designed to maintain a high charge capacity for hundreds of charges.
It's optimized for Apple-supplied batteries and it works with AA NiMH batteries from other companies, too.

Apple Battery Charger is $29, not available in our Apple Stores at this time (seems like some stores have them though). 2-4 business days shipping from Apple Store online.
Apple "Vampire Draw" Battery Charger
Bonus: the Apple battery charger has low standby power consumption which Apple calls with lowest "vampire draw." Do you think Steve Jobs is a Twilight fan or is it the other way due to low draw?
Apple Magic Trackpad
The new Apple Magic Trackpad brings MacBook Pro multi-touch trackpad to desktop computer users.
Largest Multi-Touch trackpad made by Apple (see photo with keyboard)
Supports full set of gestures
Supports click, 2 finger right click, 2 finger scroll, swipe, rotate
Swiping through pages with momentum scrolling
Wireless, connects via bluetooth

Apple Magic Trackpad is $69, ships in 24 hours, should be available in Apple Stores (if they are not sold out)
Apple Magic Trackpad PC Drivers
Currently the system requirement for Apple Magic Trackpad is Mac OS X Snow Leopard v10.6.4 and latest software update.
It's likely that Apple will make BootCamp (Windows 7, Vista, XP) drivers for desktop Macs. When that happens someone will likely make the Magic Trackpad drivers download available for PC, but don't hold your breath. Check back to ObamaPacman.com and we'll let you know when that happens.
New Apple 27″ LED IPS Cinema Display
The new Apple 27 inch LED Cinema Display features:
high quality IPS display (also available in iPhone & iPad)
built-in iSight video camera
microphone and speakers
powered USB 2.0 hub
mini-display port
MagSafe connector
2560 x 1440 resolution
meets stringent Energy Star 5.0 requirements
works with MacBook, MacBook Pro, iMac, Mac Pro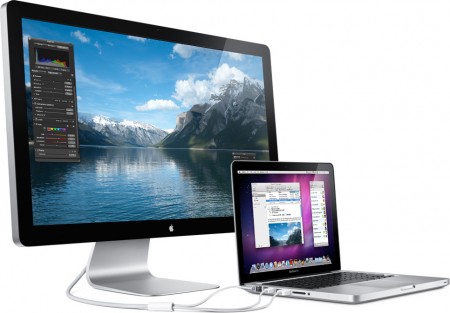 The new 27 inch Apple Cinema Display is only $999, which is less-expensive than a comparable Dell display. Availability "coming soon."

Related Posts