Apple Publishes Nokia N97 Mini Suffering From Death Grip
Apple delivers more AntennaGate smack down, posts death-grip-pwned Nokia N97 Mini to its antenna reception page.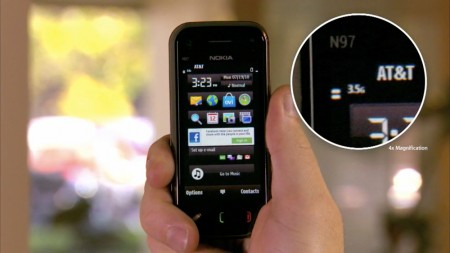 Nokia spokesperson claimed earlier in response to Apple's iPhone 4 AnteannGate press conferee, that "Nokia has invested thousands of man hours in studying human behavior, including how people hold their phones for calls, music playing, web browsing and so on. As you would expect from a company focused on connecting people, we prioritize antenna performance over physical design if they are ever in conflict."
But Nokia then confirms Apple's finding "In general, antenna performance of a mobile device/phone may be affected with a tight grip, depending on how the device is held."
The Nokia phone, when held in a death grip, drops from 7 to 2 bars. So much for decades of "competence" in antenna design.
This latest antenna death grip finding published by Apple is the least of Nokia's concerns, which has seen the value of its company in a plunge, as demand for Nokia "smart" phones has collapsed. They are looking for a new CEO.
via 9to5mac

Related Posts