Apple iPhone 4 Mystery Press Conference This Friday
Apple just informed the media of a mystery press conference this Friday, July 16. Details are scarce except that it's about the iPhone 4. Speculations are rampant.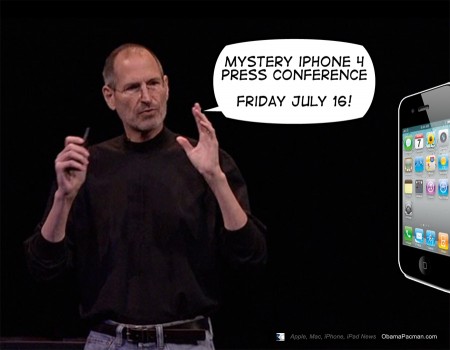 Apple Issues Mystery iPhone 4 Press Conference July 16
The Apple iPhone 4 press conference is scheduled for 10 AM Pacific / silicon valley time, or 1 PM EST. It is highly likely that Apple CEO Steve Jobs will head it.
What do you think this mystery iPhone 4 press conference is about? (besides "xyz millions of iPhone 4 sold, our most successful product launch. Ever.") Most people would bet on the iPhone 4 antenna / reception issue or non-issue would have a mention.
Apple has been criticized for the design of the iPhone 4 external antenna, which has issues reproduced by different members of the media, such as Consumer Reports, Erica Sadun's App, and OP Editor's Hand vs. iPhone 4.
What do you think it's about?

Related Posts