Apple on iPhone 4 Antenna Problems: 3G Bars, We are Displaying it WRONG
3G Bars… We are displaying it WRONG. Apple today announced that it believes most iPhone 4 antenna / reception problems are caused by faulty signal strength display.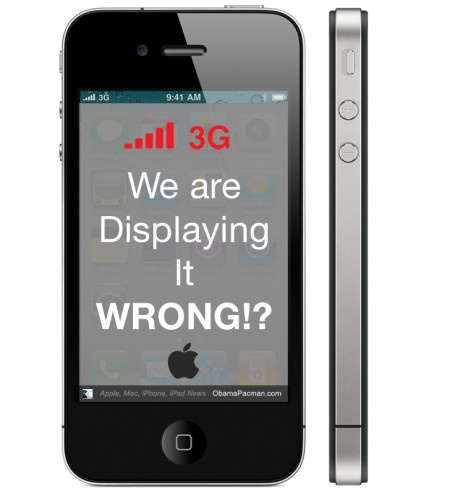 Apple Official iPhone 4 Antenna Announcement
Some people have problems with reception on their new iPhone 4: by holding the iPhone 4 a certain way, they can reduce the displayed signal bars significantly. Thus, it must be a design flaw with the iPhone antenna.
So, are you holding it wrong?
Apple has looked into the issue and made an official announcement, describing it as a faulty antenna signal strength reading, which will be fixed with a free software update:
We have discovered the cause of this dramatic drop in bars, and it is both simple and surprising.
Upon investigation, we were stunned to find that the formula we use to calculate how many bars of signal strength to display is totally wrong. Our formula, in many instances, mistakenly displays 2 more bars than it should for a given signal strength. For example, we sometimes display 4 bars when we should be displaying as few as 2 bars. Users observing a drop of several bars when they grip their iPhone in a certain way are most likely in an area with very weak signal strength, but they don't know it because we are erroneously displaying 4 or 5 bars. Their big drop in bars is because their high bars were never real in the first place.
Apple describes the solution: "We will issue a free software update within a few weeks that incorporates the corrected formula. Since this mistake has been present since the original iPhone, this software update will also be available for the iPhone 3GS and iPhone 3G."
iPhone 4, How to Get Full Refund
Apple also offers a FULL REFUND for those who are not fully satisfied: "As a reminder, if you are not fully satisfied, you can return your undamaged iPhone to any Apple Retail Store or the online Apple Store within 30 days of purchase for a full refund."
Problem Solved?
For some, the iPhone 4 reception "problem" might be part psychological, due to overly optimistic signal strength reporting. However, the "psych — we are displaying the wrong number of bars" does not explain all the issues others are experiencing with their new iPhone 4.
Keep in mind that Apple has sold over 1.7 million iPhones. Thus, even assuming the defect rate is at 3%, the low end of industry rate, there would be over 50,000 defective phones. (OP Editor just exchanged his iPhone 4, due to some connectivity problems even with 5 bars, more on that later).
So, this won't be last we hear about the iPhone 4 antenna issue.

Related Posts