Apple: Free iPhone 4 Bumper / Case for All*
Apple CEO Steve Jobs presented that iPhone 4 doesn't have an antenna design defect, but is giving everyone a free bumper case or a substitute.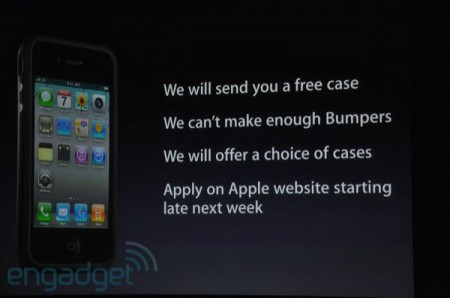 *Free iPhone 4 bumper / case offer is currently good for iPhone 4 customers until September 30. Steve Jobs: we will reevaluate the offer again in September.
Steve Jobs mentioned that due to non-changing form factor of iPhone 3Gs, and the lack of supply of iPhone case, 80% 3Gs users bought case, but only 20% iPhone 4 users bought case. However, compared to iPhone 3Gs, a smaller percent iPhone 4 users complained / returned their phone.
It's a good first step. But in our experience, none of the previous generation iPhones required a case to make phone calls. However, keep in mind all iPhone come with 1 year Apple Care warranty, which will cover all parts and labor of a replacement phone, if you run into problems in the future. It's up to you to determine the pros and cons of iPhone 4 to see if it's worth it.
via engadget

Related Posts