Apple CEO Steve Jobs Keynote Fashion Evolution
Is this what makes a CEO successful? Here's Apple CEO Steve Jobs' black mock turtleneck, blue jeans, and sneaker fashion over the years, from 1998 to 2010.

Looks like a black St. Croix black mock turtleneck [amazon link
], blue Levi's 501 jeans [amazon link
], made-in-USA New Balance sneakers [993
/ 991
], and round wire rim glasses is the fashion of the Apple CEO. Steve occasionally wears a belt of unknown origin. Jobs wears his everyday super-hero costume to introduce many iconic Apple products, from original bubble iMac, iPod, intel Mac, iPhone, to iPad.
It appears to be the unofficial fashion of the secret Apple Antenna Labs Stargate Chamber too.
Black Turtleneck A Day
Remembered reading somewhere Steve Jobs' wardrobe is full of black turtle necks and jeans, so he doesn't have to waste time thinking about what to wear every day. Is it working? Some might say so:
After a decade of Apple conquests, Fortune calls Steve Jobs "CEO of the Decade" and Harvard Business Review chooses Steve Jobs as the "best performing CEO" in the world. Jobs even leads to Apple surpassing Microsoft in market value this year.
Steve Ballmer Fashion: Do Not Want
In contrast, this is the fashion of Steve Baloney Ballmer, the Microsoft CEO who welcomes MicroSheep to the So-So: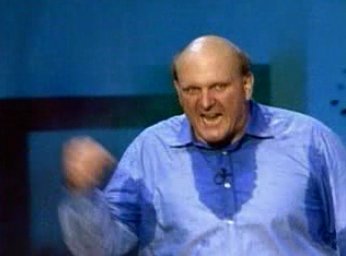 Steve Jobs image:
[Fast Company drimergallery on flickr via iphonesavior]

Related Posts