App Developer Erica Sadun Demos: iPhone 4 Antenna Death Grip
Want to demonstrate the iPhone 4 antenna death grip? There's an App (yup, the most original joke ever) for that.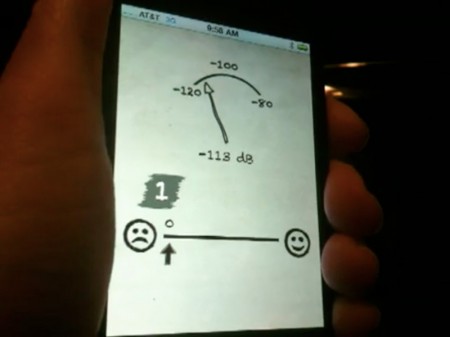 iPhone developer Erica Sadun made an App to demonstrate the iPhone 4 antenna death grip for TUAW:
The App is almost certainly to be an ad-hoc developer install, not available in the App Store.
The phone starts with 5 bars, but holding the phone gets the signal to unusable low 1 bar at -113 dB.
Note, the bar meter demoed in the video is slightly misleading, as it doesn't show that the phone starts out in an area of low reception. A strong reception is -51 dB, but the video starts with -95 dB. On the other hand, Erica Sadun's iPhone 4 is displaying 5 bars. That's due to Apple's admitted "We're displaying it wrong" iPhone 4 antenna signal strength mis-reporting.
Basically, this app confirms the earlier findings of mobile phone antenna signal attenuation issue. Tuaw did a follow up video where the iPhone 3Gs also results in signal reduction, but overall slightly better signal strength:
Note that O2 SIM is just a re-branded AT&T SIM, using the same cell towers as AT&T SIM, so the differences are not due to a "different" carrier.
It's not all hopeless though. Recent study by Anandtech that concluded iPhone 4 can maintain better connection at a weaker signal. The study also discovered that, with the iPhone bumper case, the signal loss is minimized.
via
death grip and comparison [tuaw]

Related Posts