Analysis: Apple iPhone 4, the Good, the Bad, the Ugly
What are the good vs. the bad things about iPhone 4? Is it worth it at this time? Here's our experience and analysis.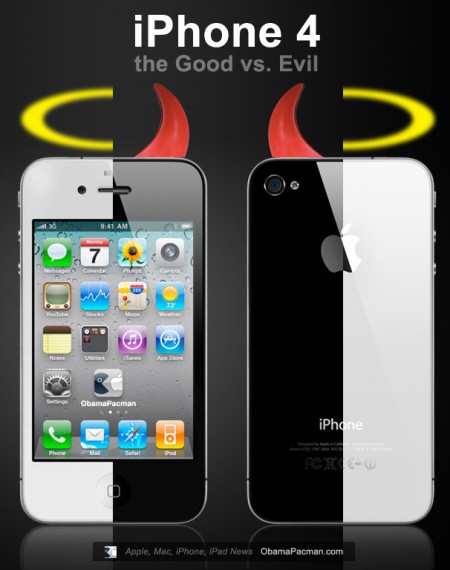 (We don't have an idea on how to photoshop iPhone 4 into: good, bad, ugly, so here's a Batman inspired iPhone 4 two-face good vs. evil illustration instead)
We thought we get this in before Apple "changes everything, again" at the iPhone 4 mystery press conference tomorrow.
The Good, iPhone 4
There are many great things about the iPhone 4, including:
Great camera with 720p video recording
Great front camera image quality, even under low light.
Beautiful display: Retina display win
Fast, almost twice as fast in browser speed tests against iPhone 3Gs on many sites, when the signal is strong
Thin without case, had to check my pocket occasionally to see whether the iPhone is still there
Long battery life: talking for 1 hour and battery barely uses 5-10% of iPhone 4 battery
Better WiFi reception no matter how you hold it
GPS is very fast no matter how you hold it
The Bad, iPhone 4
Fragile Beauty: the Glass
We hope not to experience this, but judging from drop tests the new glass of the iPhone 4 displays might be an issue.
The new iPhone 4 glass is designed to be more scratch resistant, but drop tests prove the iPhone 4 glass is much more brittle. Translation, it is more fragile / prone to shatter. In contrast, previous generations of iPhone are much more resistant to damage due to the patented Apple iPhone steel bezel, no longer in iPhone 4.
Our iPhone 4 Problems
Here are 3 problems we've run into our iPhone 4. Already exchanged once, looks like we'll exchange it once again.
No Connectivity With 5 Bars
Our first iPhone 4 had a problem with intermittent to no internet connectivity, sometimes even with 5 bars of "full" signal. iPhone 3Gs did not have the problem in the exact same areas. This seems an isolated problem only a small number of users experience though. More photos in the gallery section at the end of the article.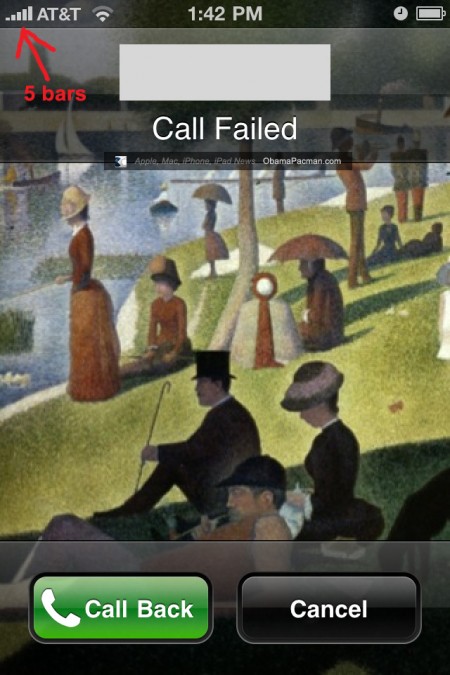 The 5 bar and no mobile connectivity problem is RESOLVED with replacement iPhone 4. Mostly have not seen the same problems when there are significant number of bars on the replacement iPhone 4.
Antenna / Reception Problem
Yes, the iPhone 4 antenna death grip and reception problems are very real.
Both our first and replacement iPhone 4 has the signal attenuation problem with its new external antenna, while holding it normally as a phone.
Confirmed by Consumer Reports, developer Erica Sadun's app, and OP death grip speed test video. Result: slow, interrupted connections and data transfers if you don't have a strong signal.
This problem is greatly reduced when iPhone 4 is used with a case, such as the Apple bumper case. But our replacement iPhone still seems to be occasionally flaky, even with the Apple bumper case. Apparently, don't use the death grip will help too.
Note: have not had a dropped call with the replacement iPhone 4.
Proximity Sensor Problem
With the replacement iPhone 4, in a recent 2 hours of phone calls, had 3 incidents of touchscreen becoming active as result of false proximity sensor readings. Virtual keypad became active twice, speaker phone became active once.
Nothing throws you off when you are talking with the phone to your ear and all of the sudden the speakerphone comes on. Never had it with previous iPhones.
Maybe the texting generation don't use the iPhone as a phone anymore? Never had a problem with proximity sensor with any previous iPhones, so there might a problem with the new iPhone 4 proximity sensor design. Planning on another exchange if the upcoming iOS 4.0.1 software update doesn't fix this issue.
The Ugly, iPhone 4
So far, Apple has not announced a satisfactory response to these issues. The recent "3g bars, we're displaying it wrong" statement doesn't explain some of the other possible hardware issues.
Judging how the iPhone bumper case can definitely minimize the problems, it's a surprise Apple isn't giving those out to all iPhone 4 buyers. The bumper minimizes iPhone 4 problems, but doesn't solve all its problems.
Conclusion
To wrap up, we'll see what happens tomorrow. Steve Jobs better not get on the stage and say: psyched! this is the White iPhone 4 announcement, what do you think we would talk about anyway, our new antenna? You are holding it wrong!

Related Posts