WTF, SquareTrade? FAIL
Came upon the SquareTrade site, offering warranty / insurance / replacement for iPhone 4, iPad, iPod touch, MacBook Pro, iMac, etc. Looks interesting, but something is not right.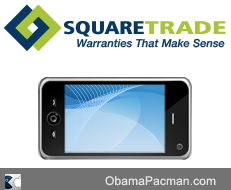 What's Square Trade?
Square Trade offers an alternative to AppleCare with accidental damage protection. Apple Care product warranty does offer the best service in the industry, but doesn't offer accident protection. Square Trade give you the option to go to Apple or go to Square Trade for service, so in theory you get the best of both worlds.
Look at a screenshot of Square Trade site and see if you can find something odd.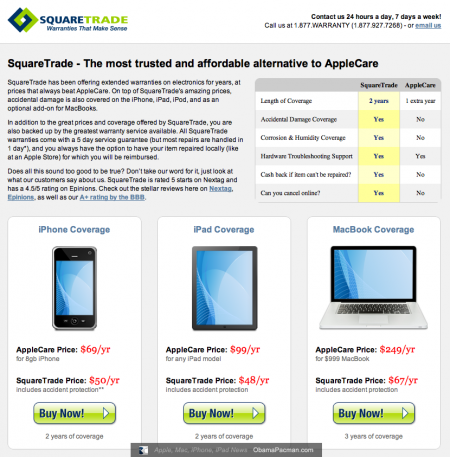 Square Trade, what's wrong with your… site? At least 4 things wrong with the picture.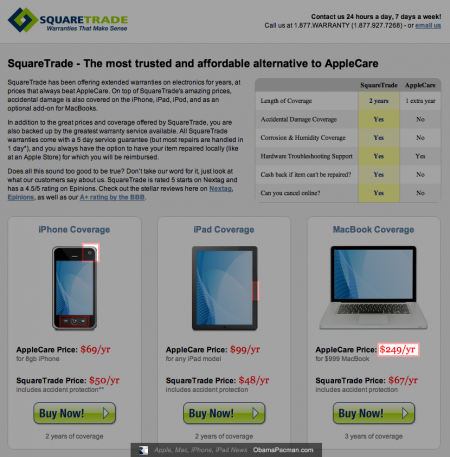 iPhone, Square Trade
Most people who seen a few real iPhone, iPhone 3G, or iPhone 3Gs can probably tell what's wrong with this picture: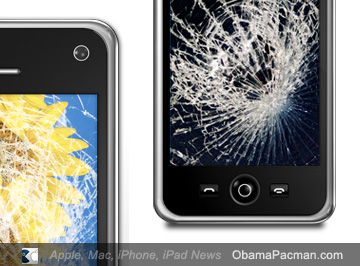 Square Trade iPhone (partly shown on their home page) shows:
Extra iPhone front facing camera on top right (it's not the ambient light sensor, on a different place)
Extra buttons near home (only the knockoffs got those things, but they don't work very well)
The iPhone home button is a squaricle, combination of square and circle, Square Trade shows a circle
The new iPhone 4 does have a front video camera, but also does not have the shiny chrome bezel anymore.
iPad, Square Trade
A lot of people questioned about the iPad bezel size after the Steve Jobs iPad Keynote []: why is the black bezel not thin like the iPhone? Answer: so there is room for your finger to hold the iPad tablet.
Square Trade made the mistake of making up their own iPad tablet image with an impossibly thin bezel. Most people probably can't tell the difference, but iPad users probably can.
Square Trade MacBook AppleCare Math Fail
Square Trade lists AppleCare Price for MacBook as $249 per year: math fail
First, $249 extends the standard 1 year Apple warranty to 3 years, so 3-1= 2 years extra coverage. Take $249/2 = $125 per year, not $249 per year.
Second, you can buy AppleCare from third party for much less than that.
Square Trade did not include the cost of their deductible in the price comparison. Another tricky thing they did is comparing the per year price, with tiny footnote that says Square Trade requires 2 or more years. So it costs more than Apple Care in many cases.
Icon Fail
Looks like they got some cheap clipart for their other Apple product coverage. Their iPod, iMac / Mac Pro, Apple Cinema Display, and headphones are different from the Apple offerings:

Square Trade Offers Panda Protection
Although Square Trade does get decent reviews, it doesn't inspire confidence if they can't even show the correct products.
What happens if Square Trade offers panda warranty? This is a panda: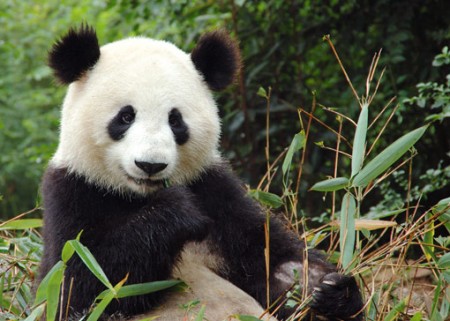 Using the impeccable ability for Square Trade to differentiate details, this could be a square trade panda, aka raccoon: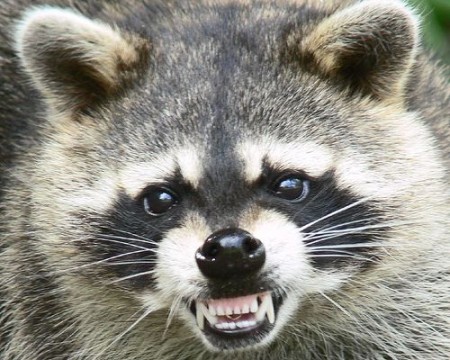 Not the same.
Does no one at SquareTrade knows Apple products? Does no one in their company even looks at their own web site? Do you think they'll send you back an iPhone knockoff as replacement? Maybe they need a new tagline:
Square Trade: Warranty that Might Make Sense, but product photos don't.
Apple Care
Update: You can get Apple Care for about 25% off with this link: [amazon link
] and also [SquareTrade deals on amazon
].

Related Posts