Watch: Official Apple WWDC 2010 Steve Jobs iPhone 4 Keynote Video
Watch / download today's WWDC 2010 official Apple Steve Jobs iPhone 4 Keynote Video here!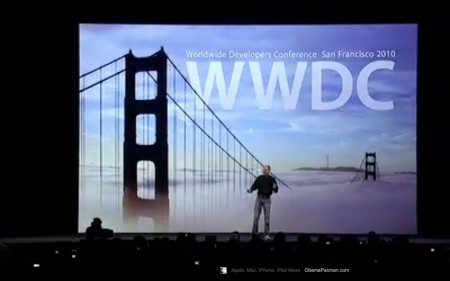 Apple CEO Steve Jobs demo the 2010 iPhone 4 with OS 4.0 today. See the official WWDC 2010 iPhone 4 keynote video for all the details.
The Apple iPhone OS 4 keynote, including iPhone & iOS 4.0 features, are available to watch as video stream or download as video podcast:
Video Download: Official Steve Jobs iPhone 4 Keynote, Apple WWDC 2010
Apple WWDC iPhone 4 keynote video duration is approximately 1 hour 52 minutes. HD version of the iPhone 4 Keynote is now available for download / watch:
Video stream, Quicktime [apple]
Podcast download, 1.27 GB [apple]
To download the WWDC 2010 iPhone 4 Steve Jobs keynote video onto iPad, iPhone, iPod touch, Apple TV, Mac, or PC, use the Podcast download link. Enjoy!
iPhone 4 WWDC 2010 Steve Jobs Keynote Coverage
WWDC 2010: Steve Jobs iPhone 4.0 Apple Keynote video (see above)

Related Posts