Droid Does not (have a display to compete with iPhone 4)
Recently, the vague Verizon vaporware machine posted a Droid teaser recently about their Kludge Droid iPhone wannabe.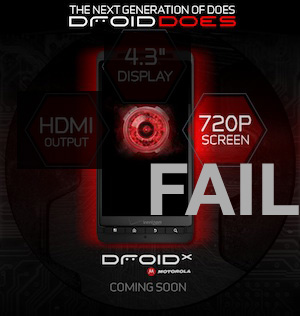 With the sold out Apple iPhone 4 scheduled to be released this week, someone is seeking some form of attention by crying wolf?
Droid Does Drink DroolAid
Last Friday, the vague verizon vaporware releases a teaser about the Android Droid X, first describing the Droid X screen / display as 720p: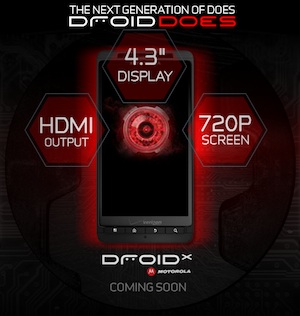 But didn't Apple CEO Steve Jobs said that the 2010 iPhone 4 retina display is revolutionary sharp? iPhone 4 has 960×640 pixels, but a 720p display would beat it with 1280×720 pixels. Did an iPhone knockoff just beat iPhone 4 in specs?
Of course, Fandroid, the few people who like to spend time tweaking their devices instead of actually using it went wild.
But it turned out that Verizon either deliberately lied about the specs or have completely incompetent people who cannot differentiate the difference between 720p display and 720p recording. After Fandroids drooled over the Droid X "720p screen", Verizon updated their website to show 720p recording: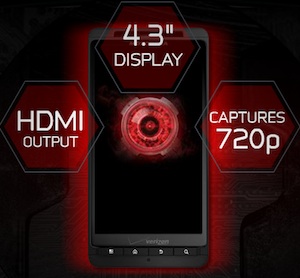 The vague Verizon vaporware continues to list:
no specs
no price
no launch date
no os version (Android users often get stuck with obsolete OS)
Verizon, however, does list $350 contract termination fee. And Verizon / Droid still does believe in selling an evil eye from a killer robot.
The Android Cake is a Lie!?
Sorry, Fandroids have to keep drinking their Droid DroolAid, while iPhone 4 is released this week with low compression 720p recording. Perhaps Verizon vaporware machine should adopt this tagline, inspired by Valve's Portal: the Android cake is a lie!
(Of course, teasing aside, not all Android fans are blind Fandroids. Future article will compare 2009 iPhone 3Gs with 2010 HTC Android Evo video quality shot by iPhone / Android user.)
via MR

Related Posts