Valve: Team Fortress 2 "Big Things" Teaser, June 10 Mac Release
Valve's Team Fortress official blog talks of big things involving "cultivated tree-fruit."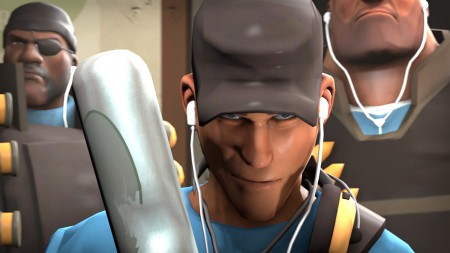 Valve teaser image: Team Fortress 2 characters rock on with their Apple iPod signature white earbuds.
Team Fortress 2, a great game from Valve / Steam gaming service will be released on the Mac OS today!
The humorous Valve team talks in a secret code about the BIG THINGS: Things that rhyme with "grapple." Things that rhyme with "Speem Gortress zmavailable on the Babac."
Maybe Valve means the iPhone iPad evolution? Or maybe Team Fortress 2 available on the Mac?
Team Fortress 2 Trailer, Hollywood Blockbuster Style
Team Fortress 2 is a great online multi-player FPS game with no monthly charge, and really great updates adding new weapons, maps, and gameplay dynamics free of charge from Valve.
It is one of my favorite games. TF2 has been playable on Apple computers since its launch via Apple bootcamp.
Check out more Valve Mac teaser gallery here, including the heavy eating a sandvich iTunes silhouette ad parody. Since the Mac Steam launch in May 2010, Valve has delivered Portal, Half-Life 2, and over 50 games to Mac OS X Steam gaming service.
Maybe the Heavy should change his taunt from Pow HaHa to Pod HaHa! Let the bonking begin!
via
TF2 Team [teamfortress]

Related Posts