Reserve / Pre-Order Black Apple iPhone 4 Now at Apple Store
It's June 15 and iPhone 4 is now available for pre-order from Apple Store.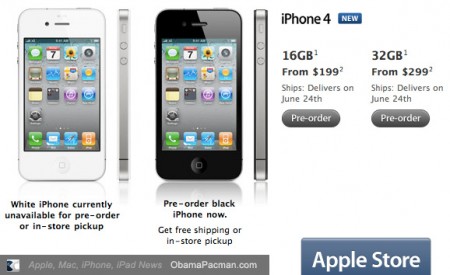 Buy Apple iPhone 4 / Pre-Order
iPhone 4 with HD video camera can be pre-ordered from the Apple Online Store. It'll be shipped directly to your door, either home or business on Thursday June 24. iPhone 4 can also be reserved at the local Apple Retail Store for pick up on launch day, June 24 at 7 a.m.
Black iPhone 4: Apple Pre-Order
Apple seems to indicate only the black iPhone 4 is available for pre-order.
White iPhone 4: Apple Pre-Order
At this time, White iPhone 4 is not available for pre-order or in-store pickup.
Where Can I Order iPhone 4
In Addition to Apple Store, there are a number of places where you can order / buy iPhone 4. Keep in mind iPhone 4 launch day (June 24) pre-order might run out like that of the popular iPad, so get your orders in now!
Apple Store: Pre-order or reserve for home / business delivery or Apple Store pickup.
AT&T: Pre-order online or in store. Get it from AT&T store or home / business delivery.
Best Buy: In store pre-order, $50 payment gift card purchase
RadioShack: In store pre-order, $50 down payment
Walmart: Launch day only, no pre-order
You can also wait for launch day to buy your iPhone 4 but that's not recommended if you really want one. Launch day orders are limited to 1 iPhone per person or 1 per existing iPhone contract line.
To pre-order or reserve iPhone 4 fro Apple, go:
Apple iPhone [apple]
iPhone 4 Pricing / FAQ
AT&T Contract / No Contract Pricing of iPhone 4
AT&T: iPhone 4 Upgrade Eligibility & Data Plan Video

Related Posts