Predictions: Today's Apple WWDC 2010 Steve Jobs Keynote, iPhone 4, Mac Mini, Gizmodo
Later today is the anticipated Steve Jobs iPhone 4 keynote at 2010 WWDC. So, what are the rumors and predictions?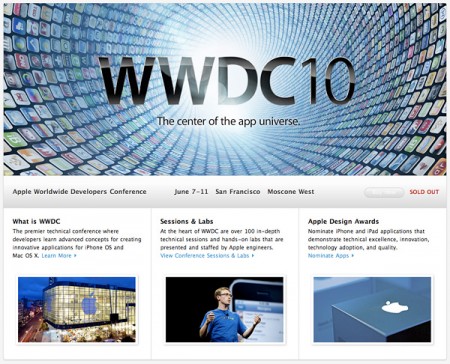 Predictions: WWDC 2010 Apple Keynote Rumored
Expected happenings today and in the near future, some are well known, some are by Roughly Drafted Magazine:
Apple introduces iPhone 4.0 running iPhone OS 4
Video iChat (already popular on Apple computers, available on Macs since the 2005 iMac G5)
Tethering as in official way to tether AT&T. Note, tethering is already possible in the 2009 iPhone 3Gs running OS 3, it's available all over the world but not yet on AT&T
Web search options to include Microsoft Bing as an open option from Google search, Google search likely to remain default search engine, for now
Better voice control as a result of Apple acquisition of Siri, a personal assistant app. Something like Ironman Project Jarvis?
Cloud services later this year. Apple's billion dollar data center [] is expected to host cloud computing services possibly for iTunes streaming ("iTunes Replay") and / or better MobileMe.
Near Future
Before iPhone 4 ships, iSuppli makes an uneducated guess at the component costs, ignoring R&D and other costs. Makes as much sense as saying: Microsoft Windows, Office BOM / component costs only $0.27, leaving room for severe PC price cuts.
The 2008 iPhone 3G discontinued after the introduction of 4th generation iPhone running iPhone OS 4. Apple is likely to still sell the 2009 iPhone 3Gs.
Rumors: WWDC 2010 Apple Keynote
Refresh of MacMini, as supplies are contrained
Apple TV update, possibly with iPhone OS
Magic Trackpad, multitouch trackpad for Mac to bring features of MacBook Pro to iMac, Mac Pro, and Mac Mini
Mac Pro is due for an update, but probably won't see an update at WWDC this year
Gizmodo at iPhone 4 WWDC Steve Jobs Keynote
Given the on-going investigation by the police which was started by a phone call to the police from the roommate of the iPhone 4 prototype thief Brian Hogan, Gizmodo is not invited to the official 2010 iPhone 4 Apple Keynote.
The Gawker media blog isn't on the invited press list at the sold-out Apple iPhone 4 Stevenote (are they even allowed inside even if they bought a ticket?). Perhaps Apple thinks if Gizmodo has budget to buy a stolen iPhone prototype, it has the budget to buy a WWDC ticket.
Gizmodo has now taken a completely opposite approach in terms of 2010 WWDC iPhone 4 Keynote coverage. Now it wants someone with professional equipment (camera, other equipments, and professional knowledge) to work for Gizmodo to cover the WWDC keynote for free.
So Gizmodo is willing to pay a thief, but not law-abiding professionals? What happened to paying people fairly for their work? What an upside down world.
Steve Jobs Humors
Steve Jobs usually throws in a few jokes (sometimes they come true as the super secret iPad was leaked 4 years ago), so it's likely the Keynote will contain jokes about Gizmodo. It would be funny if Steve Jobs come on stage and either
shows photo of iPhone 3gs as the new phone
say: there is no new iPhone 4 this year because Gizmodo destroyed our only prototype
Hold a second for the laughter, Then say, psyched… BOOM! Here is the real iPhone 4 and it's amazing.
Reference
Some of the predictions by
WWDC 2010 prediction & speculation [roughlydrafted]

Related Posts