Myth: Apple Hates Flash
To the contrary of Adobe PR which states Apple hates Flash due to emotional, irrational reasons, here's why Apple does not hate Flash.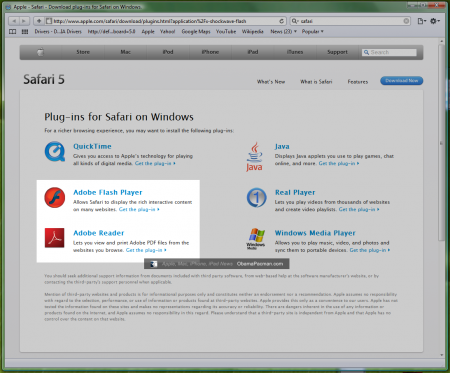 Apple Hates Flash?
Boot into Windows on the MacBook Pro to test out Apple Safari 5 web browser, and guess what I see?
Apple Safari 5 Provides Adobe Flash Download Link
As a convenience to Safari 5 users, when you navigate the Apple web browser to a site with Flash content, Apple provides an optional download link to Adobe Flash Player (if you don't have the proprietary Adobe plug-in installed).
More specifically, Apple provides an option to go to the "Plug-ins for Safari on Windows" page, containing download links for:
Adobe Flash Player
Adobe PDF Reader
Java
Real Player
Windows Media Player
Quicktime
This definitely shows Apple is strongly against openness / freedom / choice. NOT. If Apple hates Flash and intends to kill Adobe, would Apple provide links to Adobe software?
Fact: Apple is not against Adobe Flash. Steve Jobs explains "War" on Flash and Apple's choice to providing better options to a certain battery-draining, poorly-performing pug-in.
Apple Provides Openness and choice
By the way, Apple provides openness and choice on iPad, iPhone, iPod touch iOS devices and desktop computers with the open standard HTML5. Even Google agrees that Future of web is HTML5.
Adobe is against the openness and choice of HTML5 because it does not benefit Adobe financially at this time.
Adobe's Flash Motives
Here's the real reason why Adobe is mounting a PR offensive, instead of improving its buggy Flash software.
Adobe bought Flash / Macromedia in 2005 for $3.4 billion in an attempt to create a monopoly of proprietary web content. HTML5 creates a free option to Flash, greatly reduces Adobe's ability to milk the world wide web for money.
Meanwhile, Apple makes it easy for those on desktop computers to install Flash Player or other alternative plug-ins with Safari 5 HTML5 open-standard compliant web browser.

Related Posts