iPhone 4 Odyssey: Apple Store Fail + Improvement Ideas
Apple botched June 24 Apple Store launch of the popular iPhone 4, results in infinite loop error at times with 12 hour waits. Here's our story, and ideas for improvement.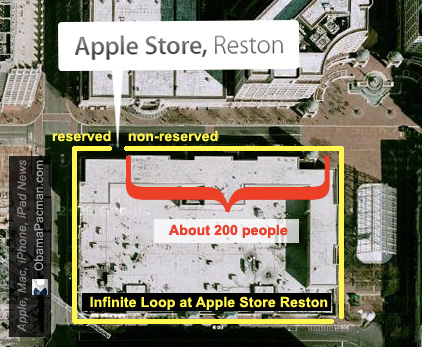 iPhone 4 Lines Odyssey / Wait Reaches Infinite Loop Error
Arrived at 4AM at Reston Apple Store. Expecting 2-3 hour wait after store opening, but ended up with over 12 HOURS wait in the unreserved line. Many people in the unreserved line were waiting since the previous day.
I was in line for so long that:
iPhone 3GS ran out of battery
iPad WiFi ran out of its 10 hour battery (was watching videos while using iPhone 3Gs concurrently early on)
MacBook Pro has 30 minutes battery left
Apple Store iPhone 4 Queue Logic FAIL
The iPhone 4 queue is split into 2 lines, reserved and unreserved. As reported earlier, Apple Stores strongly favored the reserved line. For the iPad launch, Apple Stores were doing 10 reserved to 1 unreserved customer. Even with that poor distributed ratio, at least both lines are moving, unlike the iPhone 4 line.
Some people said the ratio this time is 50 to 1. The unreserved lined barely moved for hours, even though people in the unreserved line are customers too.
At some point in the day, both lines got so long, with over 500 people, they almost meet around the huge block to form an infinite loop.
Some people recognize the infinite loop error condition and dropped out of the line, while others decided to stay longer to wait it out. It turned out, most people in the unreserved line had to skip a whole day of work to get their iPhone 4.
Later in the day, Apple Store employees started counting number of iPhones they had and asking people in line on how many iPhones they are planning on buying. Awhile later, they quietly chopped the back of the unreserved line.
Line Dramas
In mid afternoon, after hours and hours in line, someone who is probably just 15 spots away from the front of the line said he's got an appointment soon that he can't miss, and would like to switch his spot with someone in the front. He offered compensation of $100, and EVERY ONE refused to move back up to 15 spots. Even the two middle school students in the front of the line did not take the $100 offer.
$100 for 15 spots, and nobody took it. Why? Because people recognize 15 spots in that line will take at least 2 more hours of wait.
No one took the $100. So the guy left the line to go to his meeting. When he comes back later, the line barely moved and people gave back his old spot. (People have been pretty cordial about saving each other's spots).
Why Many People Did Not Have Pre-Orders
Normally Apple is on top for customer service. For the iPhone 4, Apple screwed up pretty badly. Yes, there is a huge demand from tons of customers but:
Apple and AT&T reservation systems melted down due to demand
Apple reservations ran out on the first day of pre-order
AT&T stores are sold out of pre-order
People know that some of the 3rd party retailers such as BestBuy, Radioshack have extremely limited iPhone 4 stock (mostly in the double digits, some in the single digit)
Therefore, many people got in line the night before or early morning of iPhone 4 launch day at Apple Store. Many of those people without an iPhone pre-order ended up either quitting the line after hours of wait, or stick with the line and got screwed with the 12 hour wait.
This is not an isolated incident with just the Reston Apple Store. The unequal treatment of customers seems to be a policy that all Apple Stores followed for the iPhone 4 launch.
iPhone 4 Launch, Poor Customer Service
With the summer heat (and weekday launch), it's just poor customer service to make some of its customers wait more than 8 hours longer than the other customers.
Apple did not mention anywhere that it will take 8 hours longer to get the iPhone 4 if without a reservation.
People in the unreserved line won't be so annoyed if both lines move at a comparable rate. But for those people who had been waiting since the night before or early AM, seeing another line moving rapid while your line is at a standstill, results in a very frustrating experience.
PROBLEM: Check Your Eligibility, Not Integrated
One point of delay of iPhone 4 order process is lack of system integration of one crucial element. The web based "Check your eligibility" system, which shows customer's upgrade eligibility date and current price, is not tied to the Apple Store iPod touch based point of sales ordering system.
I am currently on AT&T contract, not eligible for full iPhone 4 upgrade price ($199/ $299), but doing early upgrade ($399/ $499). However the Apple Store employee first went through all the screens, signed, and then showed me the wrong price of $699 for the iPhone 4.
He had to redo all the steps again. That's another 5 minutes, for not integrating the "Check your eligibility" system.
To be fair, the Apple Store employee did suggest that we check the eligibility system first, at least twice, but I just assumed that it's part of the ordering system. So, Apple should make it a REQUIRED first step to save time.
Ideas for Improvement: Self Serve!?
A gentleman in line talked about his idea on how to improve the store processing speed.
Apple Store's Point of Sales system is based on iOS iPod touch. That means the same app can be used on any iOS devices, such as the iPhone, iPod touch, and the iPad. Since a good number of people in line have iOS devices, enabling this for self-serve order-pre-entry could possibly save a few minutes time per customer:
Extend wifi to line area
Customers can pre-fill HTML5 or iOS App forms if they like
Verify info when customer admitted to store
Apple can even update the recently released Apple Store App to do the above.
Wrap Up
Our account of the iPhone 4 long lines odyssey is consistent with accounts from other Apple Stores, including that of nearby Tysons Corner, site of the original Apple Store.
At least it's better than Nexus One fail due to lack of interest from real customers.
People asked me, is it worth it? I don't know, but the camera and the Retina display are really sweet.

Related Posts