iPhone 4 FaceTime Demo: ChatRoulette with Apple Employee
Apple is offering a free service to try out FaceTime with an Apple representative, who will provide a brief tour of iPhone 4 FaceTime video chat.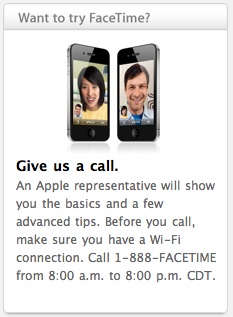 Don't know any early adopters? Now you can try out iPhone 4 FaceTime with a random Apple employee.
Just call 888-FACE-TIME (322-3846), answer some question about your WiFi connectivity, and get connected to a quick FaceTime tour few minutes long. Available 8AM to 8PM Central time.
No ChatRoulette random nakkid folks here, not from this service anyway.
FaceTime does not use voice minutes (even the phone call to another FaceTime user, likely on the same network, won't cost you any minutes in the US).
Do you think Steve Jobs would surprise some lucky caller? Perhaps some of those callers in the 12 hour iPhone 4 line?

Related Posts