Huge iPhone 4 Demand Inundates Apple, AT&T Servers
On the first day of iPhone 4 pre-orders, Apple & AT&T servers are inundated by the huge demand.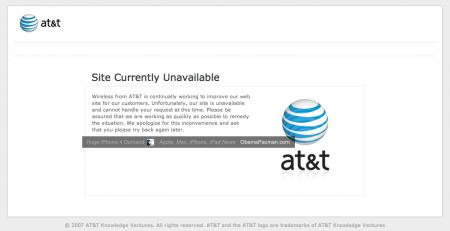 Question: With almost 100 million iPad, iPhone, iPod touch iOS users and millions of non-iPhone users, how many of them do you think tried to pre-order iPhone 4 today?
Answer: A LOT.
It's always difficult for businesses to deal with surge in demand from popular products. Even Apple, one of the top online destinations, can't deal with the huge iPhone 4 demand.
Apple and AT&T are the only sites in the U.S. to allow iPhone 4 pre-order online, with their websites ordering systems slowed to a crawl.
Apple retail stores also see long lines for iPhone 4 pre-orders.
AT&T Number Porting
You can bring your mobile number from a number carrier to AT&T via phone number porting, but their number porting system is inundated with the iPhone 4 demand today. OP reader Lianyan reports conversation with AT&T representitive:
AT&T REP: For today what you will need to do is set up with a new number. Then when you receive the phone you can have your number ported over at your local AT&T store.
AT&T REP: The reason you will need to do it this way is because at this time the porting ability is not working through our site due to technical difficulties
We won't be surprised if Apple reports record iPhone 4 sales this in the immediately future.

Related Posts