Cupidtino Dating Site for Apple Lovers Launches Beta
Cupidtino, the first ever Apple inspired dating web site just becomes real. This week the San Francisco based Cupidtino just launched a beta version of their service for Apple fans.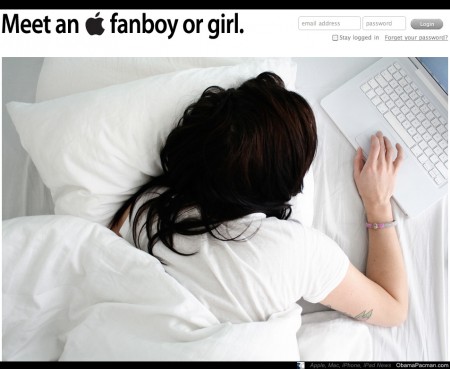 Signing up the Cupidtino beta service is easy. You need an Apple device to register. Make an account and answer a few questions such as:
How do you pay for your Apple stuff?
Were you ever on the "Dark Side"?
You can optionally add photo, favorite music, movie, apps.
Cupidtino suggests photos should preferably be in vertical orientation but it actually crops off the top and the bottom to make a thumbnail. Just make sure your face or whatever you want people to see as thumbnail (shown via search) is in the middle of the frame.
Cupidtino's current demographics seems to be that of an Apple Store in a school zone.
So, don't wait around for the Microsoft Cupidtino knockoff, check out the Cupidtino beta at Cupidtino.com [Cupidtino]
May the iCupid be with you.
Update: There's now a monthly fee, "pegged to the price of a venti Mocha Lite in the Cupertino Starbucks"

Related Posts