Apple WWDC 2010 Keynote: Steve Jobs Introduces iPhone 4.0 with HD Video
2010 WWDC brings Apple iPhone 4.0 and more! Steve Jobs demonstrates new iPhone 4. "2010: Biggest leap since original iPhone."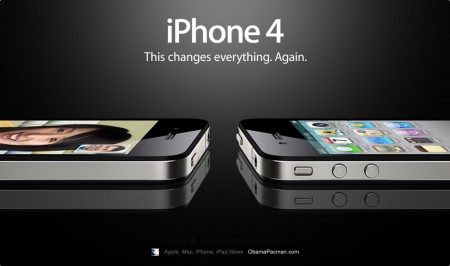 iPhone 4 WWDC 2010 Steve Jobs Keynote Coverage
WWDC 2010: Apple iPhone 4 with HD Video & iOS4 (read below)
iPhone Revolution, Apple WWDC 2010 Keynote
"In 2007, iPhone reinvented what we think of as a phone. It's hard to remember what it was like before iPhone!" Apple CEO Steve Jobs: "In 2009 the iPhone 3GS was twice as fast. For 2010 we're going to take the biggest leap since the original iPhone."
iPhone 4 Specs, Apple WWDC 2010 Keynote
Apple CEO Steve Jobs introduces the iPhone 4 at WWDC 2010:
All new design
Thinnest smartphone ever
Stainless steel for strength
Glass for optical quality and scratch resistance
Integrated antennas
Extraordinary build quality
Front camera
LED flash
Second microphone for noise cancellation
802.11n WiFi
Environmentally friendly hardware
Gyroscope
and MORE!
Antenna, Apple WWDC 2010 iPhone 4 Keynote
Stainless steel band as part of the iPhone 4 antenna system, it's never been done before: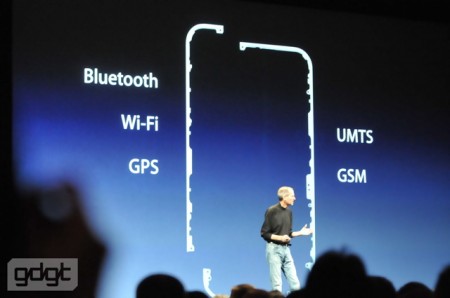 Display, Apple WWDC 2010 iPhone 4 Keynote
Highest resolution display on the market, 326 pixels per inch, sharp even when magnified up close. 960×640 pixes (4x more than iPhone 3Gs).
IPS high quality display for accurate color, just like iPad, 800:1 contrast ratio (OLED not available at such resolution). iPhone OS 4 renders existing apps at higher resolution on the Retina Display.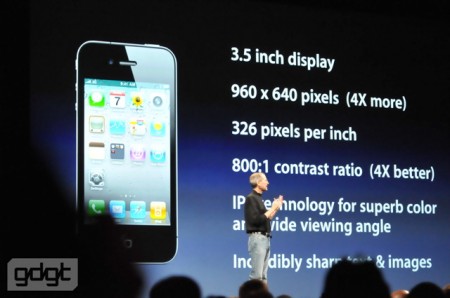 Internal Hardware, Apple WWDC 2010 iPhone 4 Keynote
iPhone is Powered by Apple A4 processor, like the iPad. (Do you think it is 1337? []) The iPhone 4 design allows for even longer battery life!!! Up to 7 hours 3G talk time, up to 6 hours browsing on 3G, up to 10 hours browsing on WiFi: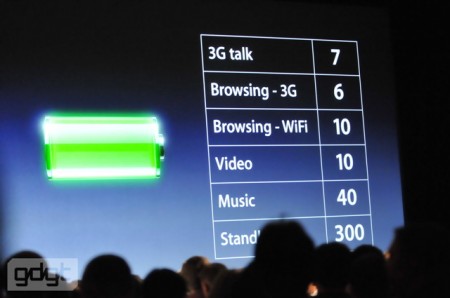 In terms of communications it has Quad-band HSDPA/ HSUPA GSM, 802.11n WiFi, GPS.
Sensors, Apple WWDC 2010 iPhone 4 Keynote
Gyroscope
Accelerometer
Compass
Proximity sensor
Ambient light sensor
Gyroscope is new, great for gaming (possibly good for turn by turn navigation / GPS while out of satellite coverage, such as in a tunnel)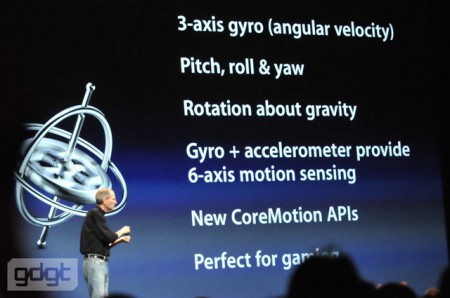 High Quality Camera, Apple WWDC 2010 iPhone 4 Keynote
Camera quality depends more than the number of megapixels. The iPhone 4 camera is better quality than comparable devices.
It even records HD videos, LED Flash. iPhone 4 records full HD 720p videos at 30fps. Build in video editing with iMovie for iPhone.
iPhone OS 4 Renamed: "iOS4″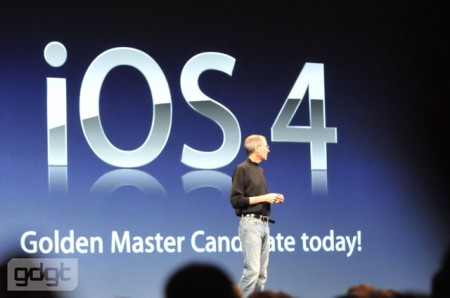 Note iOS4 is owned by Cisco, who also owned the original iPhone name.
Over 100 new user features
Over 1500 developer APIs (for apps to interact with iPhone OS and the phone)
Multitasking done right
United email inBox for those who have multiple email accounts
Email threading
Deeper enterprise support
Folders
Bing, HTML5 based: "Microsoft has done a really nice job on this, it's an HTML5 presentation, it's great"
The 100 million iOS devices expected to be sold this month.
New Apple iPhone OS / iOS Apps
iMovie, as mentioned earlier for HD video editing on iPhone.
New iBooks App for e-books: sync your place, notes, and bookmarks across all your devices. iBookstore has 1 purchase syncs across different devices (purchases can also be shared within a household).
iAds to allow developers earn money with HTML5 ads. Allows interactivity as mini-Apps. Nissan has an iAd for their fully electric car.
Already $60 million iAd commitments this year.
One More Thing: FaceTime Video Calling!
FaceTime video calling has amazing video and audio quality. Runs on iPhone 4, switching from front or rear camera automatically. Portrait and landscape, with amazing video / audio quality.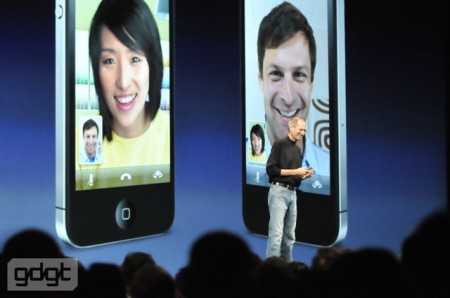 iPhone 4 video calling works anywhere there is WiFi in 2010.
Release Date, iPhone 4
Golden master candidate for developers today. They are almost the final version of the iPhone OS. iOS4 upgrades for iPhone 3Gs and 3G available on June 21, free. Of course, not all features will be supported in the 3G and iPod touch.
iPhone 4 Availability & Price
iPhone 4 will be on sale June 24, 2010, pre-order starts June 15, 2010 at apple.com/iphone.
$199: 16GB iPhone 4
$299: 32GB iPhone 4
iPhone 3Gs $99
iPhone 3G discontinued
iPhone 4 will be available in 5 countries (US, France, Germany, UK, Japan) in June 2010. 18 more countries in July. 24 more countries in August, 44 more countries in September with total of 88 countries.
via [gdgt]

Related Posts