Apple WWDC 2010: iPad, App Store Stats
Apple CEO Steve Jobs at 2010 WWDC: iPad is magical, new iPhone games (Farmville without Flash). iPad successful, App Store stats.
iPhone 4 WWDC 2010 Steve Jobs Keynote Coverage
WWDC 2010: Apple iPad, App Store Stats (read below)
Introduction
Apple CEO Steve Jobs wears his customary black turtleneck and blue jeans.
First thing, over 5,200 attendees at the sold out 2010 Apple World Wide Developer Conference (WWDC). Over 1,000 Apple engineers at hands on labs.
iPad Tablet: WWDC 2010 Apple Keynote
iPad tablet is magical, over 2 million sold, 1 sold every 3 seconds. A guy even said it got a girl at a cafe interested in him, so iPad must be magical.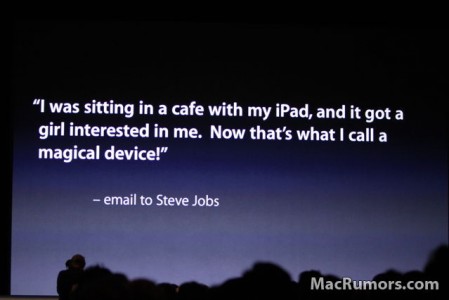 iPad are now in 10 countries, will be in 19 countries by end of July.
8,500 iPad apps, over 225,000 iPhone apps in Apple App Store.
Developer of iPad app The Elements [itunes link]: "I earned more on first day than 5 years of google ads on periodictable.com." Theo Gray, Wolfram Associates.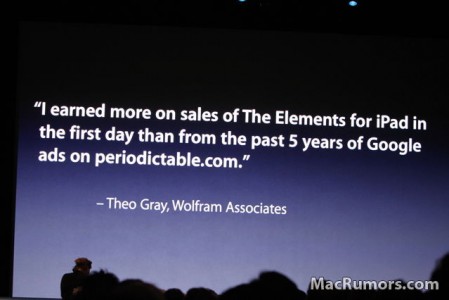 App Store: WWDC 2010 Apple Keynote
95% Apps submitted to Apple iPad iPhone App Store approved within 7 days. Apple's strong standard compliant browsers also allows the future of web Apps running HTML5.
App Store expecting $1.5-2 billion this year.
New iPhone Games
Farmville, originally made on Flash, popular on Facebook, is now on iPhone OS without need for Adobe Flash. No need to tie down to a computer with the iPhone Farmville.
Netflix, first on iPad, coming to iPhone this summer for free.
New Guitar Hero game on iPhone OS by Activision.
And the best thing? Over $1 billion paid to iPhone / iPad developers so far.
via [macrumorslive]

Related Posts