Apple Store Reston FAILS at Meeting iPhone 4 Demand
A good number of people are getting p1ssy at Apple Store Reston Clusterfucz. The non-reserved line has barely moved since this morning, and has been basically stuck since 8:30 am.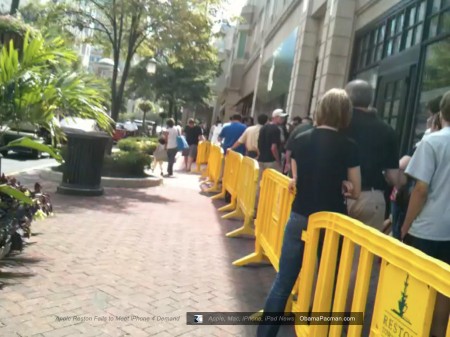 Here's the latest iPhone 4 line at Apple Store Reston. Jason, the person NEAR the FRONT of the non-reserved line was there since 10:30PM of the previous day, and it's 11:30 AM. Thirteen hours and still no iPhone:
Fail: Apple Store Reston FAILS at Meeting iPhone 4 Demand
The slight movement of the unreserved iPhone 4 line are basically due to the people who quit the line.
Unlike the iPad unreserved line which moves at 1 unreserved to 10 reserved customer (and that unreserved line moved at snail's speed), Apple Store Reston is processing almost all iPhone 4 reserved customers but ignoring the unreserved customers. Some Apple employees are saying they are doing ratio of 50 to 1.
But the fact is, Apple Store Reston is ignoring one of the lines.
They are equally customers. Some of them were not able to reserve an iPhone due to pre-orders inundating the server, so why would Apple discriminate against some of its customers?
Apple Store employees had mostly stopped to chat with the unreserved line due to bunch of annoyed potential iPhone 4 customers. They do bring some water, watermelon, and oranges by occasionally though.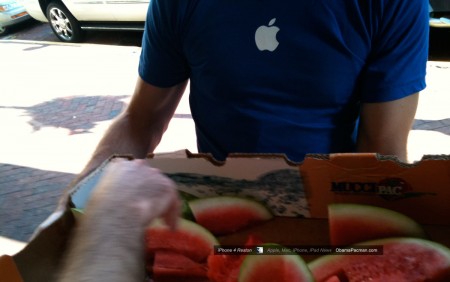 Still doesn't explain the EPIC FAIL at customer service. Plus, AT&T network in the Reston Town Center line vicinity is being hammered to a crawl, but with most people out of battery on their existing iPhone due to the long wait, the network congestion is the least of its concerns.
Although Apple Store Reston's first queued customer has been long gone, in a recent span of 1 hour, 1 (one) unreserved iPhone 4 customer did managed to got his new iPhone, after 12 hours of wait.
But can Apple do anything about the popularity of the new iPhone 4? All Apple employees are already working (many since 5 A.M.), so perhaps patience is required for those in line.
Update: Got mine, over 12 hours later in the unreserved line. The reserved line wait is said to be around 3 hours.
Had dinner, went home, and passed out.

Related Posts