Safari 5 Flash Blocker: Mac OS X / PC Windows
Make your desktop Mac / PC Safari 5 look like your iPhone 4 / iPad with Flash blocker!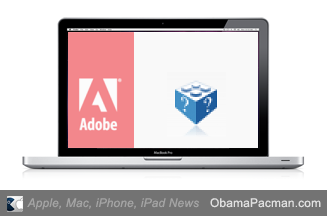 Ever hear your laptop fans spin when you fire up your browser, due to Flash content? If you like not having resource-draining Flash slowing down your computer either Mac or PC running Apple Safari browser, you are in luck. This Flash blocker is also great for those who like blue-legos.
Apple iOS devices already come with built in Flash blocker. Apple iPhone and iPod touch show the infamous blue lego, while iPad tablet doesn't show the blue lego; instead, there's a blank space for Flash ads etc. Instead of Flash, iPad iPhone iOS devices get the more efficient HTML5 videos from most major websites.
Your computer doesn't come with Flash blocker by default though, so you probably want block Flash. Flash blockers prevents automatic loading of Adobe Flash content. To see the content, just click on the box (or enable whitelist).
Click To Flash, Flash Blocker Safari 4, 5 Mac
Click To Flash has been available for awhile and works with Safari 4 and Safari 5. It's Mac OS X only, works well. The only thing is that their stable release, 1.5.5 has not been updated lately. They do have an experimental version though.
Click To Flash doesn't use the blue lego, but uses a more low profile gray box for Flash content. Nice touch is that it differentiates YouTube video with a different description.
BrokenBox, Block Flash on Safari 5 Mac / PC Windows
Block Flash on Safari 5 and get your blue Legos here:
If you are running Safari Windows, Flash blocker info is hard to find, but luckily now it has changed. There is now is a Safari 5 plugin that works on both Mac and PC / Windows. Enable Safari 5 Extensions / Plugins and install.
Note, "Enable YouTube via HTML5″ option seems to be broken at this time in BrokenBox. All I get is a black box, so that option is turned OFF.

June Update: YouTube via HTML5 now works.
July 24 Update: YouTube via HTML5 broken again.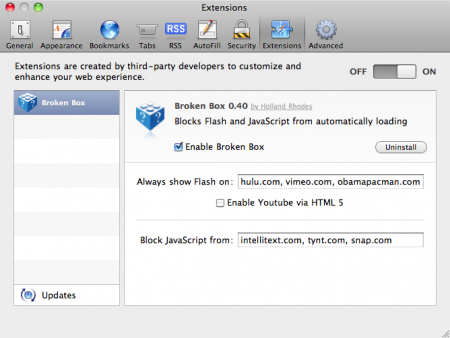 Advertisers
Keep in mind some advertising services serve Flash ads randomly as an "image ad," and there is no way for us to choose non-Flash ads. So if you like some sites such as this one, you can enable Flash on those sites with the whitelist, "Always show Flash on: obamapacman.com" for example.
Safari 5 Flash Blockers, PC / Mac
For me, BrokenBox consumes less resources than Click2Flash. If you got Click2Flash installed, just go into "Safari Menu" to turn it off.
brokenbox [gavers] PC, Windows / Mac OS X, Safari 5
click to flash [clicktoflash] Mac OS X, Safari 4, Safari 5

Related Posts