Apple Releases Free Download of 2010 WWDC Technical Session Videos
Over 100 technical sessions are presented to Apple Mac, iPad, iPhone, iPod touch developers at the sold-out WWDC 2010. This week, Apple has published the videos. For free!

WWDC, known for Steve Jobs Apple Keynotes which in 2010 brings iPhone 4, is actually the "Apple Worldwide Developers Conference" with over 100 in-depth technical sessions covering advanced coding techniques.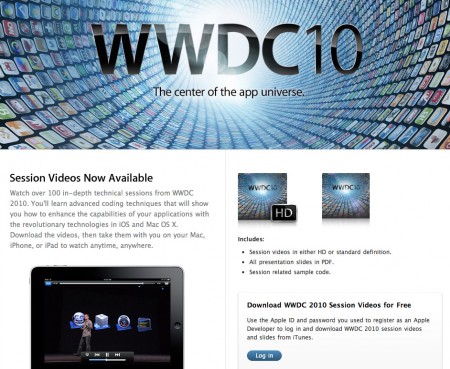 Download WWDC 2010 Videos
The WWDC 2010 technical session videos download, viewable on iPad, iPhone, iPod touch, includes:
Session videos in either HD or standard definition
All presentation slides in PDF
Session related sample code
They are free if you have an Apple developer account (available for free if you agree to the NDA). To download the WWDC 2010 session videos & slides, log on to your Apple Developer account at:
WWDC 2010 Videos [apple]
Related: iPhone 4, Steve Jobs Apple keynote, WWDC 2010

Related Posts