Apple iPhone iOS4 100 New Features Partial List
Apple CEO Steve Jobs said in the iPhone iOS 4.0 Keynote that it has over 100 new user features. But what are the new iPhone 4.0 features? Here are a good number of them.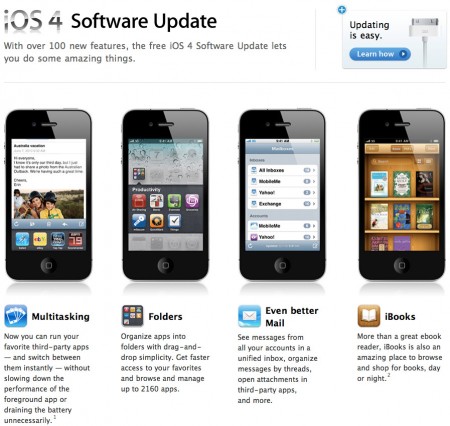 iOS4 download was released today, with 100 new features for users and over 1500 new APIs for developers. Apple didn't release the long features list, but Tipb has made a pretty comprehensive list of iPhone iOS 4.0 Features, and a 10 minute iOS 4 walkthrough video.
Video: iPhone iOS 4.0 New Features
So what are some of the major features in iPhone iOS4? Here are a dozen of the 100 new iOS4 features:
Multitasking, not the old fashion battery draining way, but managed smartly through iOS services. Multi-tasking only for iPhone 4, iPhone 3Gs and iPod touch v3
iBooks ebook reader, it's a free App download from App Store, iOS iBooks App also reads PDF
Notes can sync over the air, with IMAP accounts such as MobileMe / Gmail
iTunes Podcast streaming, no need to download the whole thing before playing
iAd support, the well-designed, app-like HTML5 iAd will be enabled July 2010
Mail now has unified inbox, great for those with many email accounts. Mail also has threaded view
HTML5 videos can now play inline, iPad style, with option to play full screen
Bluetooth keyboard support, like that of the iPad
Accessibility: VoiceOver reads out loud whatever your finger touches on the screen, now supports 21 languages
Orientation lock, portrait mode for now
Folders: up to 2160 apps. Original iPhone has spaces for 16 apps, then it expanded to 9 pages including web apps. Then comes App Store and up to 11 pages of Apps. With iOS4, iPhone and iPod touch can carry up to 2160 Apps.
Improved spell check, still has auto-correction, with new ways for spell suggestions
iPhone iPod touch iOS 4 Device Support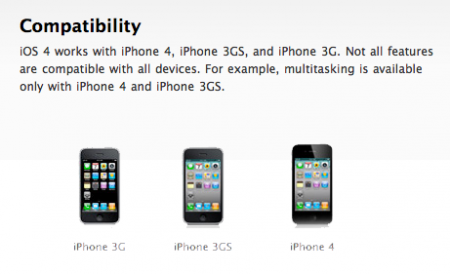 2010 iPhone 4: all the features
2009 iPhone 3Gs, iPod touch v3: all the features except those that require iPhone 4 hardware, such as FaceTime
2008 iPhone 3G, iPod touch v2: no multitasking, custom wallpaper, Bluetooth keyboard
2007 original iPhone, iPod touch: no update
For a very detailed list, check out the tipb walkthrough [tipb]
Some info at: iPhone software update [apple]

Related Posts