Apple iPhone 4 Speed Test (vs. 3Gs)
Apple iPhone 4 Mobile Safari browser speed test (vs. iPhone 3Gs), on AT&T GSM 3G mobile network.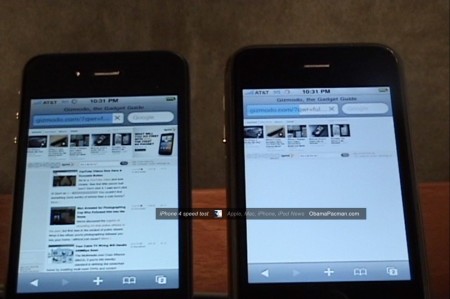 Video: Apple iPhone 4 Speed Test (vs 3Gs)
All Speed tests over 3G, WiFi turned off. The links are made to open in new browser window.
Apple 2010 iPhone 4 vs. 2009 iPhone 3Gs. Both phones are brand new in terms of OS. iPhone 3Gs running official 3.1.3. 5 tests are conducted in this video.
Note this speed test illustrates the relative speed of iPhone 4 vs. iPhone 3Gs in terms of web browsing. It is not designed to show the speed of mobile 3G which might vary depends on your location.
iWeb quick test page
WPtouch mobile site
ObamaPacman full site
Gizmodo mobile site
Gizmodo full site
Yes, audio is muted, iPhone 4 left, iPhone 3Gs right:
Result: even though iPhone 4 is rendering 4 times the pixels on its new, high resolution Retina display, it does more faster than the recent iPhone 3Gs! iPhone 4 consistently loads and renders web pages faster than the snappy iPhone 3Gs.
Part of the speed increase is due to the faster Apple A4 processor (like the iPad), another factor is the new HSUPA support in iPhone 4. That means in supported areas, iPhone 4 will have up to 60% faster downloads and up to 500% faster uploads. This test result is likely to have reflected both these factors.
We had lots of tests planned but ran out of time.
Here's our iPhone 4 FaceTime First Impressions / Activation FAQ
Maybe we'll see you at the Reston Apple Store line for the iPhone 4 launch.

Related Posts