Apple iPhone 4 FaceTime First Impressions, Activation FAQ
An ObamaPacman reader in the Washington D.C. area got two iPhone 4 early. We got a few minutes to play with them, and here's our very rushed iPhone 4 FaceTime first impressions.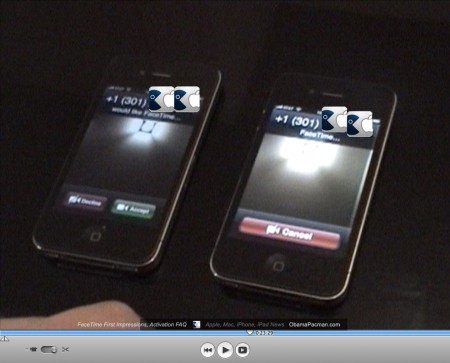 Apple CEO Steve Jobs touted that among 100 new iPhone features, one of the main features in iPhone 4 is the WiFi FaceTime video chat. So how does it actually work for the end user?
FaceTime Activation
First, you need to TURN ON FaceTime, which seems to be off by default.
Second, FaceTime, strangely, requires "activation." Looks similar to the existing iPhones requiring activation of push notifications with an official AT&T / official carrier SIM card.
When OP Editor got his hands on the two phones to check phone numbers under settings / phone, one of the phone says "waiting for activation" under FaceTime. (The two iPhone 4 are already activated with iTunes, and phone calls, MMS, all functions work.)
After digging out some lights for photos, both iPhone 4 say FaceTime activated. So, if FaceTime doesn't work for you, go into your iPhone 4 "Settings" and "Phone" to see the activation status. Perhaps wait a few minutes (and in the case of June 24 iPhone 4 rush, maybe a bit longer than that).
How iPhone 4 FaceTime Works
FaceTime video chat is very intuitive to use.
How to: Start FaceTime
One way to start FaceTime is to call up the person. If you got iPhone 4 in the U.S., you are probably both on AT&T, which means your regular same network phone calls to each other are free.
Instead of hold key, iPhone 4 has a FaceTime key. The in-call keys are now: mute, keypad, speaker, add call, FaceTime, contacts.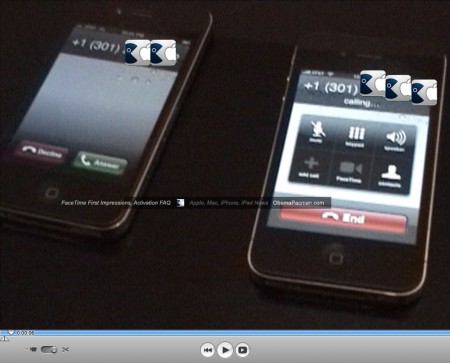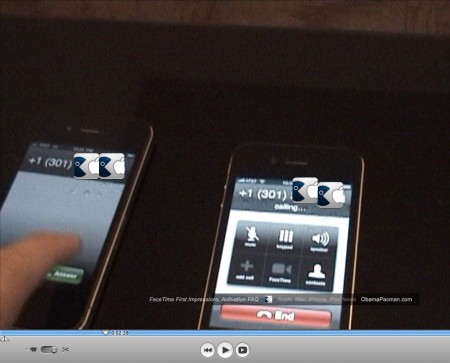 The FaceTime key is gray until the other user picks up the call, and if the other user also has FaceTime enabled device: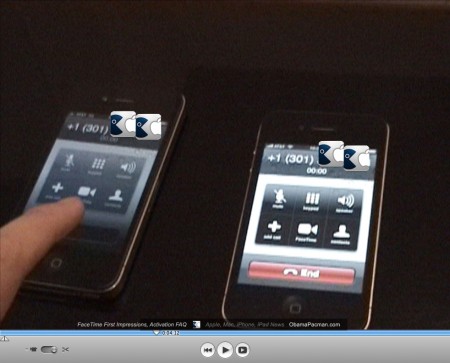 Either party can start a FaceTime request, but permission is required by the other party to connect to video chat. The other party can accept or decline the FaceTime request. The originator of FaceTime can also cancel the request: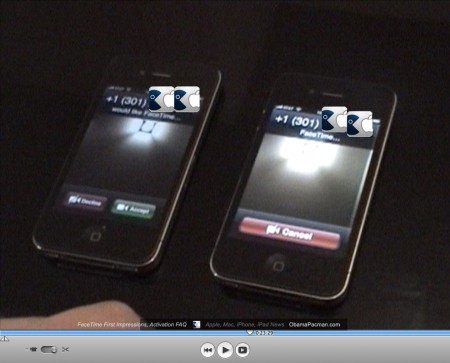 Both iPhone will display your front-facing camera view when you are connecting. Photo shows ceiling lights.
Once FaceTime is connected your voice call is disconnected, and you (still) won't use your minutes. Your Recents list will show whether a call has FaceTime.
Another Way to Start FaceTime
You can also go into your contacts and initiate FaceTime video chat, just like a phone call.
FaceTime Problem?
Ran into a possible bug. Tried to start FaceTime from Recents but nothing seems to happen on the other phone. NOTE: only waited a few seconds, so maybe it'll work if you wait a bit longer?
Testing 2 devices inches away in extremely close proximity, produces audio feedback, as expected.
iPhone 4 FaceTime Video Quality
When the WiFi reception is poor, the iPhone 4 FaceTime is both blurry and choppy. Apple iSight / iChat, standard in most Apple computers for close to a decade, does a better job when the reception is poor.
But when the WiFi signal is decent, FaceTime videos look pretty good, especially coming from a mobile phone.
Conclusion
So in summary, the great thing about iPhone 4 FaceTime is the superb ease of setting up a video call. However, don't expect too much from FaceTime in terms of video quality if you don't have strong WiFi coverage. If you got strong WiFi, FaceTime is pretty cool. We didn't get enough hands-on-time to say whether FaceTime is revolutionary.
The other new features of iPhone 4 though, especially the display, definitely rocks.
PS. Sorry, video contains phone numbers, so no FaceTime video today; only edited screenshots are available. Got gaffers tape, but didn't have time to apply.

Related Posts