Apple Gaining on RIM in US Smartphone Market Share
Apple CEO Steve Jobs shows the data on iPhone smartphone market share in his iPhone 4 & iOS4 Keynote WWDC 2010.
US Smartphone Market Share, Apple WWDC 2010 Keynote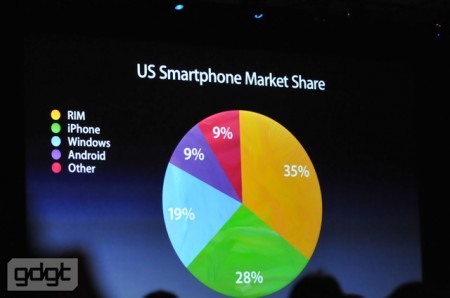 In the US Apple iPhone is catching up to RIM Blackberry, while having a much larger lead on Android, at 3x the lead over Android. Even the awful Windows Mobile (WiMP) has a larger market share than Android (no wonder, as the Android "best" phones including the kludge Droid and Nexus One).
iPhone 4 WWDC 2010 Steve Jobs Keynote Coverage
WWDC 2010: Apple iPhone Smarthphone US Market Share (read above)
via gdgt

Related Posts