Apple CEO Steve Jobs: iPhone is Really iPad Mini / Nano
Looking for iPad mini or iPad nano? Apple CEO Steve Jobs confirms that the iPhone and iPod touch are in fact the mini iPad!
Turned out that there is no iMushroom that makes iPhone larger.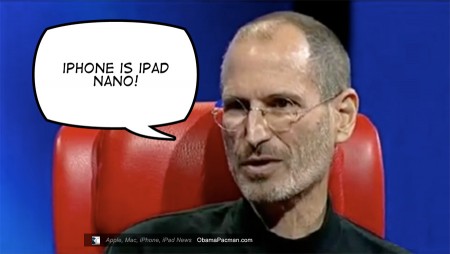 iPad mini or iPad nano are not in a secret lab at Apple Cupertino headquarters. Instead they are already available as iPhone and iPod touch.
"I'll tell you a secret… " In a recent comment at AllThingsDigital's D8 conference this week, Steve Jobs reveals a secret about the iPad and iPhone R&D:
"I had this idea about having a glass display, a multi-touch display you could type on. I asked our people about it. And six months later they came back with this amazing display," Jobs said. "And I gave it to one of our really brilliant UI guys. He then got inertial scrolling working and some other things, and I thought, 'my God, we can build a phone with this,' and we put the tablet aside, and we went to work on the phone."
Steve also reveals that Microsoft's failed tablets are a great example of what NOT to do.
"[Microsoft's] tablet was based on a PC. It had the battery life, the weight; it needed a cursor like a PC," Jobs claims. "But the minute you throw a stylus out, you have the precision of a finger, you can't use a PC OS. You have to create it from scratch."

Steve Jobs also describes, working at Apple, the "biggest startup on the planet": "Nothing makes my day more than getting a random e-mail from someone talking about how cool the iPad is… That's what keeps me going."
via macnn

Related Posts