War on Adobe Flash, Apple CEO Steve Jobs Explains (video)
Why did no one in the press think Apple has a "war on Flash" until announcement of the iPad tablet in 2010, even when Apple iPhone has excluded the poorly performing Adobe Flash since 2007?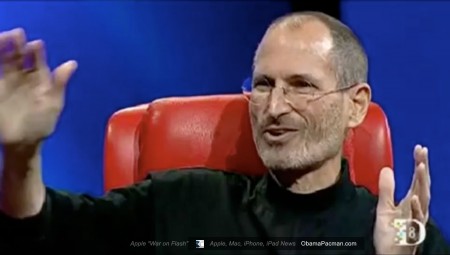 Two words: Adobe PR.
Apple CEO Steve Jobs explains at AllThingsDigital D8 that there is no war on Flash. In fact, Apple is not opposed to Flash on iPhone and iPad tablet.
Apple "War on Flash"
"Things are packages of emphasis."
So why did Apple decide to focus on HTML5, instead of Flash, a browser add-on popularized in the 90s?
Jobs: "We choose the technical vectors that have a future." The Apple CEO then goes on to comparing Flash as Floppy and other things Apple axed: "Sometimes when we get rid of things like the floppy disk on the original iMac people call us crazy."
"We didn't start off with a war on Flash or anything else." The Apple CEO also describes the circumstances why there isn't Flash on the Apple iPad, iPhone, and iPod touch, "We've told Adobe, if you ever had this thing running fast, come back and show us. And they never did."
If something such as Flash "doesn't make it a great product so we are going to leave it out." That's what happened with the current potential for the proprietary Adobe software on the Apple iPad and iPhone.
3 years after the introduction of the original iPhone, the proprietary buggy Adobe Flash still doesn't work very well, especially on mobile devices. Meanwhile, instead of waiting years for Adobe to make an buggy version of its software available, companies were able to adopt the open standard HTML5 in 3 months: CNN, Reuters, New York Times, CBS, National Geographic, Nike, Spin, Scribd, brightcove, Virgin America, Sports Illustrated, Vimeo, Google Youtube, and many others has made their web sites HTML5 capable.
Apple's Choice on Flash & iPad Market Demand
2007: Apple ships the iPhone without Flash, some people said it's doomed to failure without Adobe Flash. Now the iPhone is the gold standard where every mobile maker want to beat, just like how they tried and failed "beating" the iPod years ago.
2010: Apple introduces the iPad without Flash and Adobe begins to "raise a stink about it" with their PR offensive, instead of making a better product that performs well.
On market demand and Apple's choices: "Different people make different choices. If the market tells us we are making the wrong choices we listen to the market." However, Steve Jobs describes "so far people seem to be liking iPads… we sold 1 every 3 seconds."
So, is Apple going the long wolf on HTML5? Actually, 3 years after the iPhone is successful without Flash, both google and Microsoft are joining the nonexistent War on Flash. Even Google and Microsoft agree with Apple that HTML5 is the future:
Google VP: Future of Web is HTML5
Microsoft: HTML5 = "Next generation of Web Standards"
via
d8 [allthingsd]

Related Posts