Apple's Artsy Bouncing Matrix App Hyper-wall @ WWDC 2010
Video: At 2010 WWDC Apple shows a new version of its App Wall of 50,000 most popular App Store apps activities rendered on Mac OS X Snow Leopard with Quartz Composer.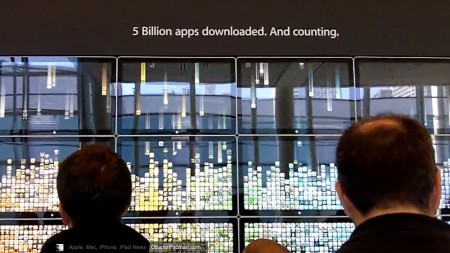 The 2010 Apple WWDC App Hyperwall is a bouncing matrix of activities of 50,000 most popular iPad, iPhone, and iPod touch apps from the App Store.
As Neo might say to the bouncing matrix… Woah! (Maybe he would say that to 2010 WWDC iPhone 4?)
5 billion apps downloaded. And counting. Apple describes the 2010 WWDC App Wall:
"This visualization shows the activity of the 50,000 most popular App Store apps on 30 synchronized 24-inch LED Cinema Displays. Each app falls when downloaded and is sorted based on the color of its icon. It takes 10,800 apps to fill the display completely.
This hyperwall is powered by 30 Mac Pro towers with Mac OS X Snow Leopard and EVGA NVIDIA GTX 285 graphics cards. As apps are downloaded from the App Store, their data is coalesced via an XML feed every 5 minutes. Apps are sorted and scheduled using Cocoa and Objective-C. The data is then passed to an OpenCL kernel, which drives the animation. Quartz Composer brings all the technologies together and renders the final synchronized output using Quartz Composer Visualizer."

via macnn

Related Posts