Apple: 3 Million iPad Sold in 80 Days
Demand for Apple's magical iPad tablet is growing rapidly.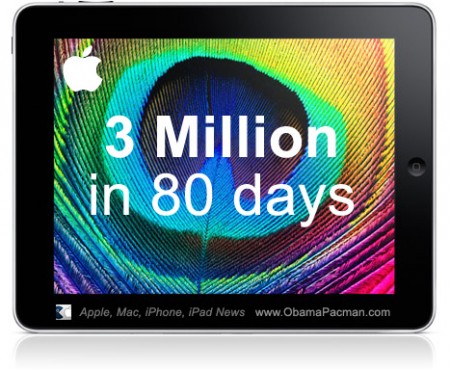 Weeks after announcing the 2 millionth iPad sale, Apple reveals that the Cupertino company has sold over 3 million iPads in 80 days.
"People are loving iPad as it becomes a part of their daily lives," said Steve Jobs, Apple's CEO. "We're working hard to get this magical product into the hands of even more people around the world, including those in nine more countries next month."
Apple sold the first 1 million iPad in 28 days, total of 2 million iPad in less than 60 days, and 3 million iPad in 80 days.
The iPad sales numbers are quite impressive, even with Apple struggling to meet the high demand of the iPad tablet. The U.S. online Apple Store currently shows all models of iPad are on fulfillment backlog of 7 to 10 business days.
iPad / iPhone Apps Availability
There are now over 11,000 iPad optimized apps, and close to a quarter-million apps on the App Store, created by Apple iOS developers, using Macs.
iPad International Availability
So where to buy iPad outside of U.S.?
Last month, Apple launched the international sales of iPad, at Australia, Canada, France, Germany, Italy, Japan, Spain, Switzerland and the UK on Friday, May 28.
Apple plans to release iPad in 9 more countries in July: Austria, Belgium, Hong Kong, Ireland, Luxembourg, Mexico, Netherlands, New Zealand and Singapore.
via apple

Related Posts