iPhone 3Gs (not iPhone 4) vs. 2010 HTC Evo, Video Camera Quality Test
Although arriving early for some people, Apple iPhone 4 won't be officially released until tomorrow, so here's a video quality comparison of 2009 iPhone 3Gs vs. the new 2010 HTC Evo, by Android user reemas.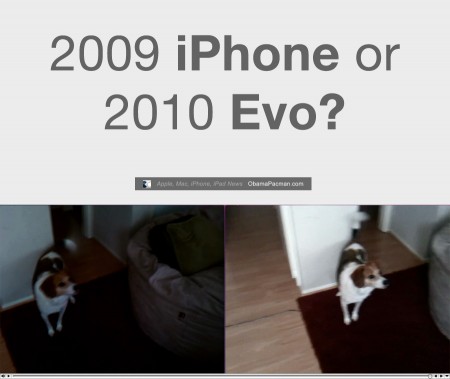 iPhone vs. Evo Video Camera Quality Test
Here's an epic video that has everything. iPhone, Android, girl, dog, and laser beam.
So which one is the 2010 Android HTC Evo, and which one is the 2009 Apple iPhone 3Gs? One of them is almost 1 year newer than the other:
Original file, 14MB download: here [svohra]
So, which looks better? Vote here, and see the answer below:

Loading ...
.
.
.
.
.
.
.
iPhone vs. Evo Video Camera Quality
It turned out, Apple didn't even need the new iPhone 4 720p camera to beat the new 2010 HTC Evo.
Answer: Left is the new Evo, right is the 2009 iPhone 3Gs.
Why?
Forum user EarlyMon explains in a logical manner:
"Apple knew that everything about the iPhone would be under scrutiny and skepticism – remember the days before the unveiling? Remember what Steve [Jobs] said the target market was in the keynote address? I sure do. So the iPhone wasn't designed by walking down the parts aisle with a checklist against what the other phones in the line had – each component, hardware or software – were targeted to catch an untapped segment of the smartphone market.
When you add up the leading edge work Apple has always done with video-related work (the QuickTime engine, Firewire, … a long list! …) and the fact that their phone has gone through refinement to sell one model only – and compare that to any other typical phone manufacturer like HTC, the expectations become obvious."
Translation: Apple puts its R&D dollars into a few products, optimizing hardware and software performance. Thus, Apple products are more refined, unlike those from companies that make dozens of products, hoping 1 might stick on the wall for awhile.
News Flash: Some Android Users Are Logical!
So it turned out that not all Android users are blind Fandroids. But somehow the fandroids (maybe shills?) love to go to Apple sites to regurgitate some PR words, while the logical users don't troll other sites. Perhaps the Fandroids are banned from Android sites for talking non-sense?
Even a site moderator said: "There isn't any reason to call someone an Apple fanboy or troll just because they post something that you don't like… If you don't like his results, then conduct your own test."
Conclusion
Anyway, even last year's Apple iPhone 3Gs beat the brand new HTC Evo in this video quality test. Do you think iPhone 4 720p video recording quality would result in a no contest? Do we need to vote for that?
Reference:
Comparison test video download, by Reemas / svohra (flash site)
via androidforums

Related Posts