Sports Illustrated HTML5 Magazine Demo
Sports Illustrated demos a purely HTML5 based multimedia magazine this week.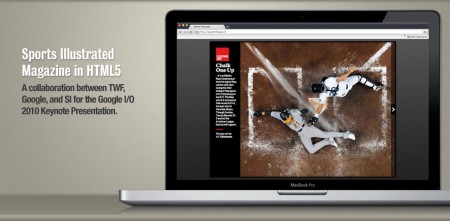 Sports Illustrated Editor Terry McDonell describes that their HTML5 prototype of SI combines best of web with best of magazine:
The Sports Illustrated HTML5 demo magazine cover features NBA legend Shaquille O'Neal. User can easily see behind the scenes of the Shaq cover photo shoot.
The HTML5 magazine has sophisticated typography (typically used for print), videos, and interactivity. It's very iPad App like. (Lots of commenters of the video are amazed at the interactive advertising. Guess they have not seen the HTML5 Apple iAd.)
The SI Editor describes the magazine prototype as an example of how business models can be transformed.
That adds to the number of businesses who transformed their websites to HTML5 capable since the introduction of Apple iPad, including CNN, Reuters, New York Times, CBS, National Geographic, Nike, Spin, Scribd, brightcove, Virgin America, Vimeo, and Google Youtube.
Image:
[thewonderfactory]

Related Posts