Review: Sobees iPad Facebook App, Great Start But… (updated)
New iPad App Sobees for Facebook has a lot of potential, it's great at some things, but at version 1.0 from a developer that doesn't seem to test its app, it has all kind of quirks and poor design implementations.
UPDATE: V1.1 update released, and a note from Sobees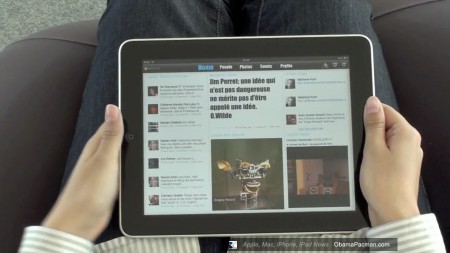 Video: Sobees for Facebook iPad App
Released May 11, 2010, Sobees for Facebook iPad App [itunes link] aims to be an iPad optimized version of the Facebook website. (It's free for the first month so get it now.)
The Good: Sobees for Facebook iPad App
First thought, hey this is cool!
You get to see the latest Status Updates, Photos, Video (yes, 1 video), & Links on home page
It has a magazine-like home page and a great photo albums feature
Optimized for both Horizontal and vertical orientations
In App Browser
The People view is really great, way better than Facebook's implementation: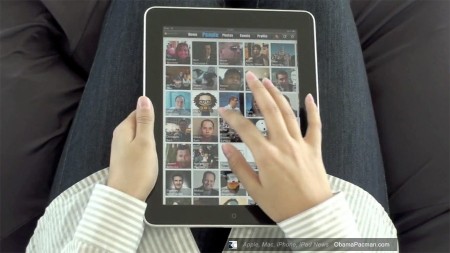 Dark Side: Sobees for Facebook iPad App
Despite its good side, the Sobees iPad Facebook App experience is marred by missing features, inconsistencies, and usability problems.
Missing Features
No notifications, no messages, no requests, no automatic refresh
Long comments are truncated, with no way to see full comment
Photos: cannot like or comment
Links: cannot like or comment
Videos: cannot like or comment
Video: Cannot access feed of videos
Status Update: cannot click on links (such as those made via twitterfeed are stripped)
Can't copy text (to send addresses to Maps or URL to browser)
Profile: only shows status updates and links. Does not show your video, photos (and associated comments). If you commented on someone else's photo by using facebook, it won't show up either
Cannot post to Facebook pages you admin
Photos should have multitouch zooming (please note the photos feature is pretty good, this would make it even better)
Bugs and Usability Problems
Home page: some photos are pixelated when higher resolution photos are available (seems to be using low resolution thumbnails in some instances)
Home page: uses URL blue colored text for non-clickable subheadings and almost same shade of blue for links. WTF? (Web interface design 101: don't make non-clickable elements same color as your clickable elements.)
Video: Can be moved up / down, than snaps back to the only video, but does nothing besides showing 1 video. (It should allow access to more than 1 video, and swiping between videos should be be consistent with photo's Right / Left swipe.)
People: requires 2 clicks to go to that person's page. (It should only take 1 click to do that. The save profile photo popup should come up after holding to the image; holding the image to save is the way iPhone OS works)
Keyboard: in horizontal view, Keyboard covers up the text field so you can't see what you already typed. Did NO ONE tested this App?
Inconsistent done button:
- Status Update: Left, blue
- Web browser: Right, blue
- People: Left, gray
The different web browser Done button placement might be ok, however, the different button placement and different color choices definitely indicates that perhaps app has no central designer. (Hint: Gray is good. Make it so.)
Conclusion: Sobees for Facebook iPad App
The Sobees for Facebook App v1.0 does a few things better than Facebook, but the app has a number of major flaws. It seems to be designed by different people and quickly put together with minimal testing.
Even a Facebook might notice that the Sobees Facebook iPad App is missing features. Definitely not close to a Facebook replacement at this time. You are probably not going to see Facebook CEO Mark Zuckerberg using it anytime soon.
However, it's a good start as it's a great app to view facebook photo albums. It's free the first month, so you can probably think of it a free public beta that will be updated to something better. To Sobees developer, please test your App (perhaps actually buying an iPad to test it out would be a great first step).
UPDATE, May 18
Sobees Response
OP Editor contacted Sobees on May 17 about the possible improvements, and Francois from Sobees wrote a reply on May 18:
"Thank you for your article and for your note. I saw your article over the Week-End.
You are absolutely right for some points and we will fix them very quickly. As external developers it is not our goal to compete with Facebook own application but to bring additional value through aggregation (sobees desktop and sobees web), better interaction, curation and richer experience. In our iPad application, we cannot provide all services that Facebook application offers and built over years. For the first version, we focused on some important information and we got very positive feedbacks on our home, people, calendar and photos implementation. We missed some interactions such as comments on photos… and we pushed a quick update to Apple on Fri to fix that. There is room for improvements and we will continue the development. We are working on the next release and you can be assured that all your comments will be considered/prioritized. It is also important to keep in mind that we have limited access because our application uses the old API and we do not have access to all information. With the new Graph API it will be much easier to fix some missing elements you mentioned."

Looks like good news, as Sobees seems to be on a fairly rapid development schedule to improve their App. So definitely give it a try.
v1.1 Released
Apple approved the Sobees for Facebook iPad App v1.1 update on May 18:

Sobees for Facebook [itunes link]

Related Posts