Mosspuppet on Opera Mini Mobile Browser on Apple iPhone + OP ACID3 Test
Did Opera shame Apple into accepting its browser into the iPhone iPod touch App Store? How well does the Opera mobile browser work?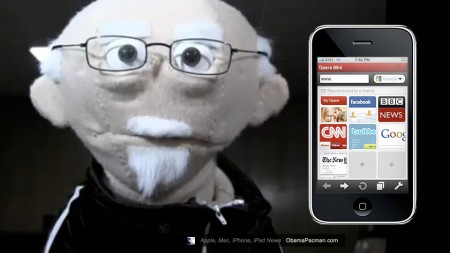 Mosspuppet explains Opera browser market share and how it works on the Apple iPhone.
Mosspuppet verdict: Doesn't work that well. Important web technology such as javascript doesn't work.
Opera Mini Mobile Web Browser ACID3 Test
OP Editor also has tried Opera Mini Browser on the iPhone, but it's no substitute for mobile Safari. It is faster doing certain things, at the expense of rendering accuracy and usability.
ObamaPacman website renders fine on all the major browsers such as Safari, Firefox, and Microsoft Internet Explorer. However, when it comes to Opera Mini, it doesn't work that well.
Zooming of Opera Mini is rubbish. Opera Mini messes with the style sheets as a kludge to support its crippled zoomed in view. It also has a pretty poor (none-existing) multitouch support.
Opera Mini on Apple iPhone ACID3 Test
ACID3 test shows Opera Mini doesn't work that well when it comes to dealing with different parts of the web standards: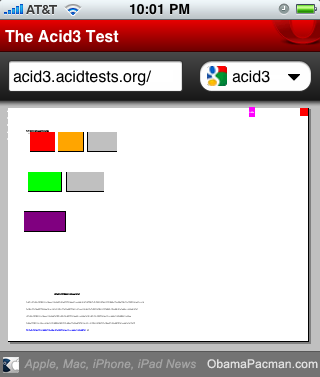 To pass the ACID3 test, the browser needs to render the HTML5 elements to look like this:
Apple iPhone Mobile Safari ACID3 Test
Mobile Safari renders the elements much better than Opera Mini.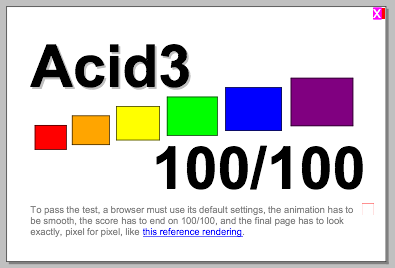 So Mosspuppet is right!
via
My review of Opera Mini for the iPhone [mosspuppet]

Related Posts