Microsoft Entertainment and Devices Division: Macs Are Fun, AND For Business
Macs are so much fun that Office Productivity Suite for Mac comes from Microsoft's Entertainment and Devices Division (EDD), just like Windows games and the Xbox 360!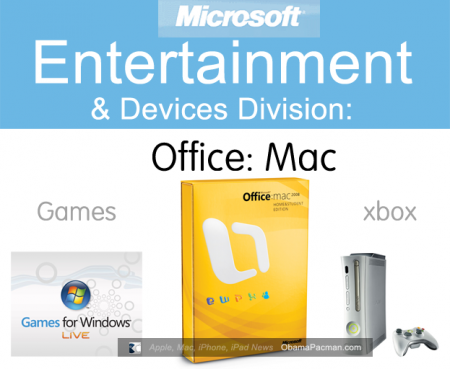 Yes it's for real.
The Microsoft EDD consists of:
Software, including Office Mac, for Apple computers
Retail sales and marketing for Microsoft Office and Windows operating systems
XBox 360 Console, Games, Live, Accessories
PC games & online services
Zune, Windows Mobile Phone (WiMP), and embedded device platforms
Others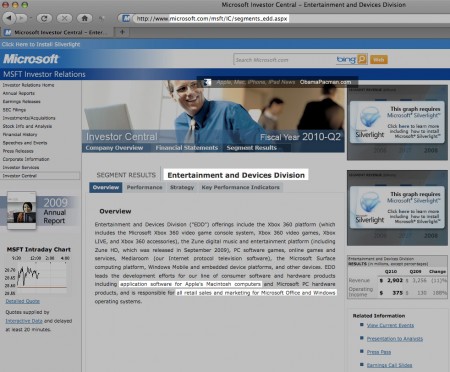 Why do you think Redmond put part of the profitable cash cow Office units in with the Entertainment and Devices Division?
Besides Windows, Microsoft earns bulk of its money (or milks its cash cow, depends on how you look at it) from Office. The thing is, Redmond already have a whole business unit / Division on Office.
Perhaps Microsoft executives one day played a prank (let's do something else that does not make sense) on Bill Gates or Steve Ballmer and it stuck?
Or do you think Microsoft suits put some of the profitable Office departments under "devices" department to hide the huge losses of the Microsoft non-monopoly businesses?
Microsoft: Macs are for Business
Microsoft's latest business organizationm happening this week with the Entertainment and Devices Division, finally moves the Mac Business unit into the same division as Office.
Reference
"Macs are so much fun that Office for Mac comes from Microsoft's Entertainment and Devices Division, just like the Xbox 360."
- corduroygt, macrumors member

Related Posts