iPad 3G Micro-SIM DIY iPhone Sim Mod
Honey I shrunk the SIM card… DIY mod of iPhone AT&T / mobile SIM card to work with iPad 3G Micro-SIM card tray!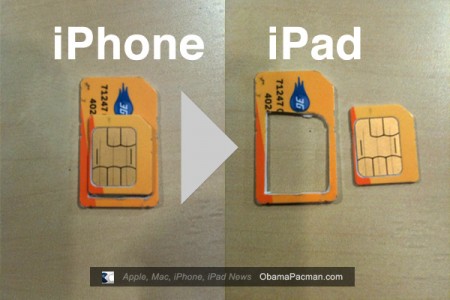 Background: iPad 3G Micro-SIM
Since the announcement that the iPad 3G uses Micro-SIM cards, FUDsters have claimed that Apple choose to use Micro-SIM card in its iPad so that none of the existing SIM cards would work with it.
Good job ignoring the obvious: that any sim card can be cut down. (OP did it back in the days of first generation iPhone and piggy back sim attachments).
Now, confirmation that this DIY sim card mod works with the iPad 3G!
iPhone SIM to iPad 3G Micro-SIM DIY Mod
Apple iPad 3G can sign up a convenient no-contract data plan. But what if you already have a data plan (say for iPhone)? Simple DIY instruction to make your own Micro-SIM:
Trace out the micro-SIM card on your iPhone SIM
Use an x-acto Knife to cut the SIM card
Once the iPhone SIM is fitted into the iPad 3G, then enter the APN settings to the specific SIM card
Keep the exterior piece so that the DIY micro-SIM can be fitted back into the original iPhone, iPhone 3g, or iPhone 3gs. The next generation iPhone (iPhone 4g?) is expected to also contain a Micro-SIM slot.
Not for Verizon Users
CDMA devices on Verizon are locked down and difficult to transfer, so that Verizon users can't transfer a data plan easily.
Verizon don't use international standard SIM cards which make this mod possible on AT&T and international iPhone carriers.
via
Mod AT&T SIM to Work in iPad 3G [modmyi]

Related Posts