Google VP: Future of Web is HTML5
At the Google I/O developer conference keynote, Google emphasized that developers should reduce dependence on plug-ins and use HTML5 open standard. (Adobe Flash not mentioned as the future).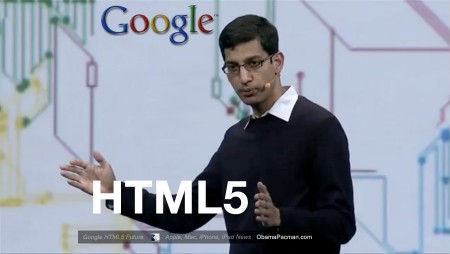 "The future of the web is HTML5," said Sundar Pichai, Google I/O keynote speaker quoted by CNN. Pichai is the Google vice president of project management who leads innovation efforts including the Google Chrome browser.
In the introduction before the keynote, Google Vice President of Engineering, Vic Gundotra, mentions that "The web is the most important platform of our generation." Google also shows the HTML5 momentum (Apple / iPad added to the slide):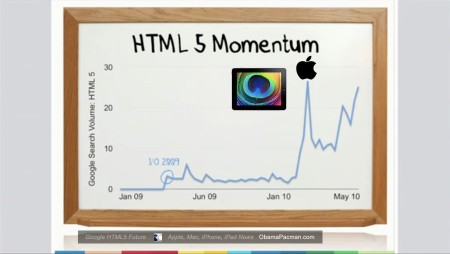 One spike is YouTube's HTML5 adoption, another spike is Apple's recent iPad HTML5 recommendation (Google joked that it might be due to a Steve Jobs late night email), another spike is from the Microsoft HTML5 adoption.
Why is Google pushing for HTML5 and NOT Adobe Flash?
Since 2004, with invention of Ajax and the Web 2.0 revolution, a large number of important applications are all web-based instead of desktop (including Gmail, Google Maps, Twitter, Facebook). None of them are made with Adobe Flash.
HTML has become increasingly powerful over the years. Now, Google claims that web applications, using HTML5, can be comparable to desktop applications: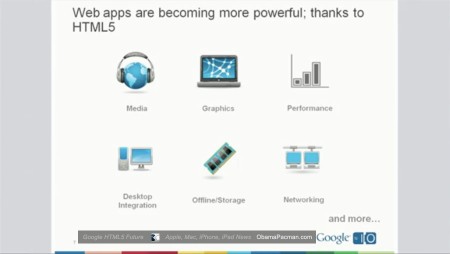 In term of browsers, all major APIs work in all modern browsers (well, except for Microsoft Internet Explorer):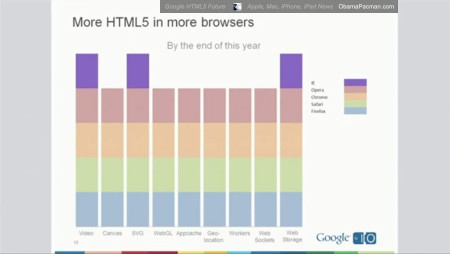 In terms of smartphone mobile browser, HTML5 browsers are everywhere: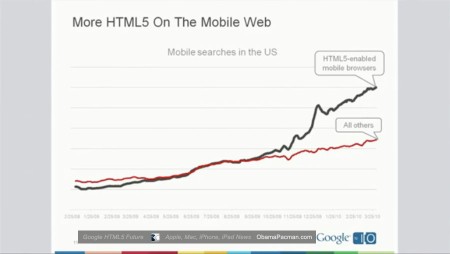 The mobile browser HTML5 adoption is lead by Apple iPhone OS that also includes iPod touch, and iPad. Even RIM / Blackberry followed suit almost 3 years after Apple's iPhone adoption of HTML5.
That explains why HTML5 is the future for Google. So much for Adobe Flash.
Google I/O took place at Moscone Center, San Francisco, where Apple does many of its high profile Steve Jobs Keynotes.
Article by OP Editor.
Reference
Google I/O Keynote [youtube]
Google Conference [cnn]

Related Posts