Google Makes Playable HTML Pacman Game
To celebrate 30th anniversary of Pac-Man, Google has changed its logo to a working HTML5 Pac-Man arcade game! Works on desktop browsers and Apple iPad, iPhone, iPod touch, without Adobe Flash.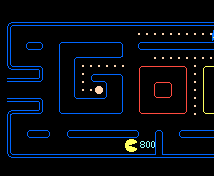 NOTE: On May 21, we have emailed Google for more information on the pacman components such as how much of it is in HTML5. Have not heard back yet.
Following its word that Future of Web is HTML5, Google released a HTML5 Pac-Man game as proof of concept. The HTML5 Pacman game will be up for 48 hours, starting May 21 8am PST. The Pac-man game / siren sound works on some devices (google removed the mysterious ghostly siren sounds due to complaints), but the game works on HTML5 compatible browsers (such as Apple Safari, Google Chrome, or Mozilla Firefox) for desktop computers and mobile gadgets.
This marks the first time people can interact with a Google logo in the Mountain View, California, company's 12 year history.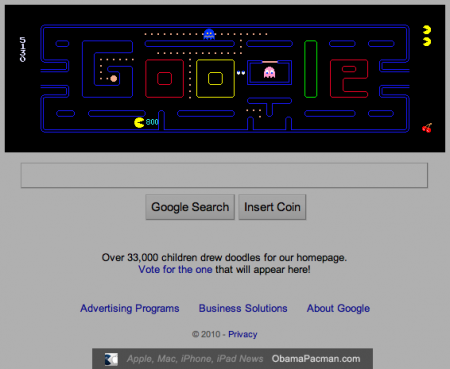 Desktop Browsers, Google HTML5 Pac-Man Game
To play it:
Single player Pac-Man: Click Insert Coin (or wait few seconds). Then use Arrow keys to control your Pac-Man.
Multiplayer Pac-Man: Start single player. Once the game starts, hit "Insert Coin" again to reset and get Ms. Pac-Man, controlled using ASDW keys.
Mobile Browsers, Google HTML5 Pacman Game
Works in Apple iPad, iPhone, iPod touch mobile Safari browser, and others. Seems to be single player only? Hit Insert Coin. For controls, use black bars on the right or the left. Swipe your hand to input your next move.
TIP: the swipe is inputted when your finger LEAVES the multi-touch surface (some mistaken this behavior for "sluggish" controls).
Google HTML5 Pac-Man: No Adobe Flash Plugin
In an attempt to sell its Flash creation software and collect royalty on its proprietary software, Adobe has claimed that its own proprietary Flash plugin is essential for online videos, ads, and games. So much for that premise.
Video: HTML5 Pac-Man on Apple iPad
Here's the Google HTML5 Pac-Man game working on the Apple iPad tablet:
Who says online gaming requires Flash?
It's now removed from the Google home page. To play it, go to:
NEW page [google]
References:
Google senior UX designer and developer Marcin Wichary wrote about the Google PAC-MAN game.

Related Posts