Boom! Apple Beats Microsoft in Market Capitalization
A historic day for the Cupertino company: Apple overtakes Microsoft to become the most valuable technology company in terms of market cap.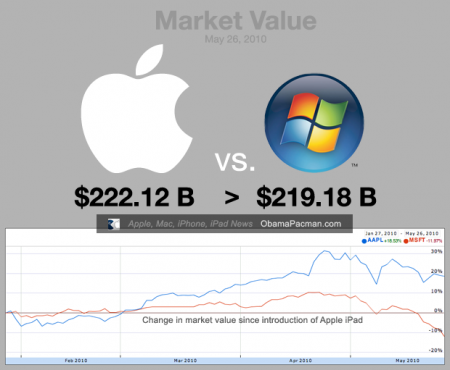 Apple Worth More Than Microsoft
Wall Street shows its continued confidence in Apple by making the Cupertino company the most valuable technology company in terms of market capitalization on May 26, 2010. Apple ended the regular trading day with market capitalization of 222.12B, beating Microsoft which is valued 219.18B.
Apple CEO Steve Jobs must be celebrating this significant milestone, which comes 34 years after establishment of Apple in Cupertino, California on April 1, 1976.
Market Cap: Apple vs. Microsoft vs. Google
In October last year, Apple beats Google in company value to become king of Silicon Valley. Earlier this year, on the first day of iPad pre-order, Apple beats Walmart in company value to become the third largest business in the U.S.
Various factors contribute to Apple's solid performance. In the past decade, Apple has been able to consistently deliver revolutionary products featuring intuitive controls that works to save user time. No longer are people stuck with IT department's iron-fist PC requirements. With Apple products, IT support needs are reduced greatly. More and more people realize that time is money, which results in more Apple customers and higher market value, surpassing that of Dell, HP, Google, and Microsoft.
2000-2009: Decade of Apple Conquests (Even Against Microsoft)
Microsoft Maintains Mediocracy Monopoly
Meanwhile, Microsoft maintains its monopoly on mediocracy. Microsoft has proven time and again that it is unable to leverage or replicate its PC monopoly (which was gifted from IBM) to push its inferior knockoffs in competitive markets. Thus Microsoft's company value remains stagnant, as Wall Street don't see any improvement in future prospects of Microsoft.
Value Gain & Losses After Apple iPad Tablet Keynote
Since Steve Jobs iPad Keynote on January 27, 2010:
Apple +18.53%
Microsoft -11.97%
Google -12.33%
Value Gain & Losses After Apple iPhone 4 Keynote
Since Steve Jobs iPhone 4 Keynote on April 8, 2010:
Apple +1.46%
Microsoft -14.78%
Google -15.63%
Failed FUD Against Apple
Over the years, various FUD (fear, uncertainty and doubt) were aimed at Apple, including billions of dollars in Microsoft advertising and PR attempts such as:
Dell CEO, Michael Dell, on Apple in October 6, 1997:
"I'd shut it down and give the money back to the shareholders."
Microsoft CEO, Bill Gates, on Steve Jobs in 1998:
"He knows he can't win."
Palm CEO, Ed Colligan, on Apple iPhone in November 2006:
"PC guys are not going to just figure this out."
How are those companies doing now? Perhaps they need to give the money back to their shareholders? ;)

Related Posts