Apple Sold Out of World Wide Developer Conference (WWDC) 2010 Tickets
With a focus on iPhone OS Apps (including iPad), the next generation of Apple iPhone is likely to be introduced by a Steve Jobs Keynote at WWDC 2010 this June 7-11.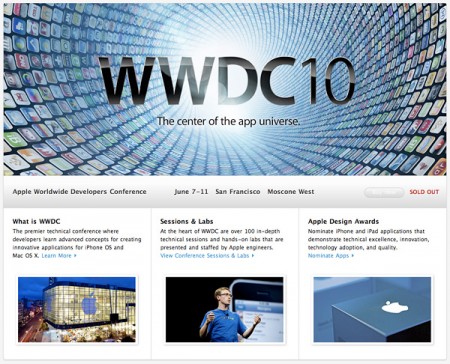 WWDC 2010: "The center of the app universe" was only announced mid last week April 28, and it sold out on May 6.
The Apple World Wide Developer Conference covers everything from the Mac / iPhone iPad OS to developer tools to design.
Besides possibility of introducing the new iPhone 4g (or whatever it's called), Apple is expected to provide more information on iPhone 4.0 OS and HTML5 based iAd mobile advertising networking for iPhone, iPad, and iPod touch at WWDC 2010.
WWDC [apple]

Related Posts