Apple iPad 3G & WiFi Dissected
Teardown / disassembly of the newly released Apple iPad 3G (& WiFi) by iFixit.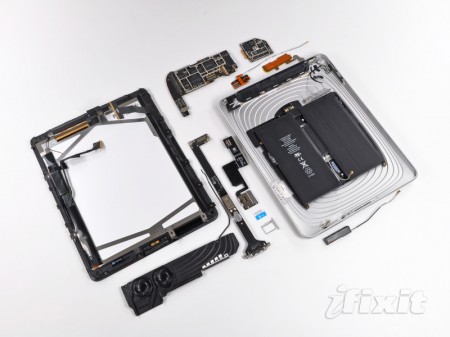 We all know that the iPad 3G + WiFi has a black RF strip on top, but how does it differ from the iPad WiFi? What are its internals like?
Apple iPad 3G Disassembly Highlights
Apple iPad 3G teardown highlights:
Different procedure to open than iPad WiFi due to the black RF strip.
5 antennas in iPad 3G: 2 for cell reception with one in RF strip and 1 attached to LCD frame. 1 GPS antenna in RF window. 2 antennas for WiFi / Bluetooth, one in Apple logo and 1 to the left of dock connector.
Apple seems to be using the entire iPad LCD frame as antenna.
Same baseband processor (provides cellular functions) in iPad 3G as iPhone 3Gs
Different GPS chip than iPhone 3Gs.

Related Posts