Steve Jobs Leaked / Predicted Super Secret iPad Specs, 4 Years Ago! (Video)
OMG! At San Francisco MacWorld Keynote 4 years ago, Apple CEO Steve Jobs leaked / predicted the super secret specs of the 2010 iPad tablet!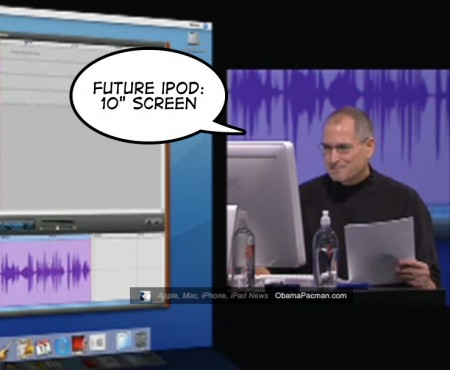 Steve Jobs, Apple CEO, Leaks iPad Specs in 2006
Steve Jobs: 2006 iPod Hot News
"Hi, I am Steve and welcome to my weekly Podcast, Super Secret Apple Rumors, featuring the hottest rumors about our favorite company." Speaks Steve Jobs as part of the 2006 Macworld Mac OS X Garageband podcast creation demo. "I have some pretty good sources inside Apple, and this is what I'm hearing. The next iPod will be huge! An 8 pounder with an 10″ screen."
Steve Jobs: 2010 iPad Keynote
So what happened in 2010 Apple Keynote? Boom:
iPod huge = CHECK (iPad = huge iPod touch / iPhone, & huge sales)
8 Pound = Nope (but no recent Apple laptop of previous decade weights that much)
10″ Screen = CHECK (iPad 9.7″ screen)
Quick, let's examine all Stevenotes for future products!
QA with Video Creator: John Yi
OP Editor got in touch with the video creator, John Yi ("Modview" on YouTube):
Q: What inspired you to make the video of the 2006 iPad prediction?
A: "I wouldn't go that far and say that I'm inspired by it, but I pay attention to little details. When I first saw the presentation 4 years ago, back then I was a far cry from being a geek. I didn't go ape about technology but I was surrounded by colleagues who rejoiced every time Apple came out with their next best thing since sliced bread.
In 2006, also the year of World Cup, I was looking into the tablet market and dreamed about a revolutionary device that incorporates a large touchscreen, live-video feed, and functional, but portable than laptops. I didn't want to miss any games from the World Cup, and hoped that I'd find a device that would get me out this jam. Then I saw Big Steve showing off a new garageband feature, and recording a 30-second podcast at the touch of a button. He joked about that 'giant, 10-inch iPod,' and people laughed along. I was, of course, amused by it, but it somehow seemed to fit the bill. Abruptly, out of the blue, I realized, that thing could possibly be the next generation iPod. I guessed without any insight into technology or Apple's history back then, but somehow my off-the-cuff prediction became a reality.
So the purpose of this video is to show how a simple, insignificant joke/idea turned into something big, like the iPad."
Wow, that's some great memory (and awesome video)! So what do you think, did the iPad came first or did the joke came first?
via
modview / John Yi [youtube]
Gallery: 2006 Macworld Steve Jobs Keynote
Steve Jobs iPad spec leak is around 41 minutes of the January 2006 Macworld San Francisco Apple Keynote, over 4 years ago.

Related Posts