Android 2.2 Froyo Browser Speed Test: Adobe Flash Performance "A Little Buggy"
How does the 2010 Android iPhone knockoff compares to the 2009 Apple iPhone in terms of web browsing speed? Video speed-test-review of Apple iPhone vs. HTC Google Nexus One with 2.2 Froyo vs. HTC HD2.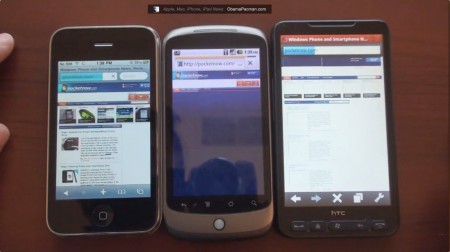 Adobe Flash: "A Little Buggy."
Background
This week, Google released the latest Android update, 2.2 Froyo. Surely, Google, a company touting an "open" platform would release its latest "open" software to all "open" Android devices? Nope.
At this time, Android 2.2 Froyo is only released for Google's own Nexus One with very low demand.
Meanwhile, Google ignores the various fragmented versions of Android phones, most of which are so "open," they are stuck with obsolete software.
Android 2.2 Froyo is supposed to be much faster at web browsing than the most recent release. It is also said to have Flash 10.1 beta, made with full cooperation between Google and Adobe. So does it work? Not very well.
Flash Claims
When it comes to describing Flash, the Android 2.2 Froyo speed test review speaks full of marketing buzzwords straight from Adobe PR:
"you can experience"
"you can interact"
"rich flash content"
"very smooth flash games"
Flash Reality
The same reviewer on actual performance of Flash:
Flash: "it's a little bit buggy" (5:46)
"Scrolling [with flash] is a little bit slow"
Flash pages "load slower"
"Really slows down scrolling and the speed of which your pages load"
Video: iPhone, Nexus One Android 2.2 Froyo, HD2 Speed Test
See 4:30 for the lagging Flash page:
Browser Comparison: iPhone Safari, Android Froyo, Opera Mobile
The test includes 3 phones
2009 iPhone, 4.0 BETA, Mobile Safari
2010 Nexus One, Android 2.2 Release
2010 HD2, Opera Mini, using server based rendering
A comparison of 2009 iPhone with 2010 phones, ignoring the fact that Apple is releasing a new iPhone in a few weeks. (Year: North America release.)
Pages with Flash Ads
When visiting sits containing Flash ads, out of 3 phones, iPhone finishes first.
Android phone struggles with the page, displaying a choppy page with laggy scrolling. The review calls it "a little bit buggy."
In no time, he gets an error with Android Froyo / Flash: "Phone storage space is getting low" which he suspect Flash is the culprit. To fix that, he had to reboot Android or spend time killing various cryptic processes, so he rebooted all the phones.
Froyo Slightly Faster?
On a freshly rebooted Nexus One, Android 2.2 Froyo is slightly faster when loading pages without Flash content on Amazon.
The problem is, when he said he's going to reboot all the phones, the clock shows 1:44 PM. Next scene shows clock at 1:54 PM, 10 minutes later. The iPhone restarts in under 1 minute (more around 40 seconds for me), so where did the 9 minutes go?
Did it take that long to reboot the other 2 phones? Did it require 5 to 10 minute reboot for the Android to run slightly faster than iPhone? How often do you have to reboot Android phones to keep that up?
Android Froyo Flash Battery Life
The review turns a blind eye on battery life.
In 18 minutes, Android drained about 25% of battery, while iPhone only used 4% of battery: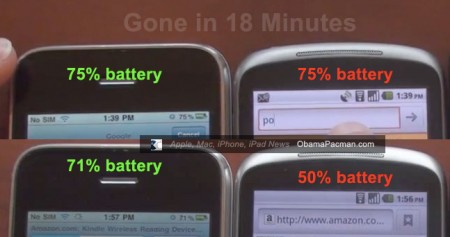 Conclusion
Mobile Flash player on Android is buggy, slow, makes the browser non-responsive, and drains battery.
In some very specific circumstances, with Flash disabled, a 2010 Android phone with 2.2 Froyo might be slightly faster than the 2009 iPhone. However for those who visit sites with Flash ads (most web sites), then iPhone beats Android 2.2 Froyo with Flash.
The reviews calls Flash problems "a little slow," "a little buggy." Hey, if it's only "a little" buggy, then why is he uninstalling Flash?
Other Android reviewers, such as engadget, said mobile Flash heats up the phone and drains battery life.
Other Notes
Android works so well, "sometimes [screen rotation] gets a little bit stuck" (1:33)
The 2010 "HD2 didn't load anything" in terms of embedded YouTube content, (iPhone is capable of that in 2007).
The Pocketnow reviewer makes up the excuse that Flash Player is "beta." He completely forgot that the iPhone he showed is also running beta software, with a major difference:
Apple beta: smooth, responsive.
Adobe beta for Android: lagging, slow.
By the way, the new iPhone will be unveiled in a few weeks at 2010 Apple WWDC and Apple CEO Steve Jobs said "you won't be disappointed." Do you think Apple will leapfrog Android in a few weeks?

Related Posts