Adobe Flash Player is REALLY Stable & Uncompromised
Adobe's Flash browser plugin must be the most stable software available. It's definitely NOTHING close to an untested alpha or beta software. (Sarcasm)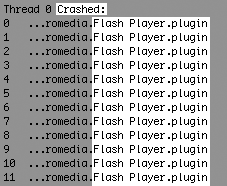 Adobe Flash: Stable and Uncompromised
Adobe claims its Flash plugin provides "uncompromised Web browsing of expressive applications, content and videos across devices." Here's a recent OP experience with it.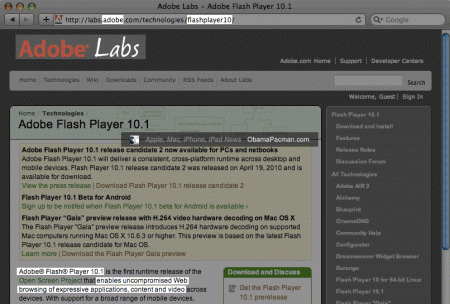 Step 1. Upgrade Adobe's perpetual beta, buggy Flash Player browser plugin to Release Candidate (RC) version of the software. (Yes, following Adobe instruction to uninstall older version of Flash player first.)
Step 2. Adobe's Flash RC crashes browsers such as Firefox and Safari.
Step 3. Read the release notes of Adobe Flash Release Candidate. Adobe describes Flash Player RC as:
"some features are incomplete"
"you may see stability issues"

Step 4. Search Adobe site for fix. Adobe recommends the latest "stable" version of Flash Player, currently 10.0.45.2 for Apple Mac OS X.
Step 5. Uninstall Flash: Adobe requires uninstall of other versions of Flash Player (even updating flash software requires uninstalling from Adobe's perspective).
Step 6. Install "stable" version of Flash player and experience the "uncompromised Web browsing of expressive applications":
So this is what Adobe calls stable and uncompromised.
Flash Player Security: Uncompromised
By the way, security experts such as Charlie Miller who is well known at CanSecWest / Pwn2Own described the safe combination OS+browser as:
"The main thing is not to install Flash!"
Why? Because Flash is full of security holes that often leads to security compromises when running Microsoft Windows.

Related Posts