Over 1,000 iPad Apps, 150,000 iPhone Apps on iPad Launch Date
With iPad launching this Saturday along with iPad specific apps, Apple seems well positioned to continue its lead of touch-optimized apps. Over 1000 iPad specific apps are expected.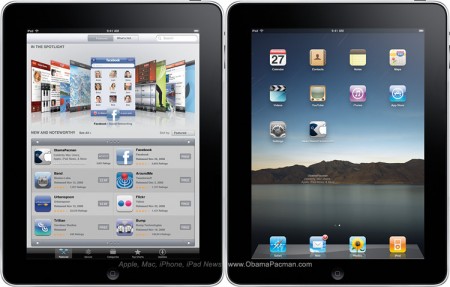 David Pogue of New York Times reported that iPad Will launch with over 1000 purpose built Apps + 150,000 iPhone Apps that can be used on iPad. That's a lot more than the original App Store for iPhone and iPod touch, which launched with only about 500 iPhone Apps.
Apple App Store Success
Since the launch of Apple App Store in 2008, the market has reacted favorably to Apple's innovations in mobile apps. Years of non-innovation from mobile phone companies such as Nokia, Palm, and Microsoft has not resulted in any viable mobile apps market. Apple was able to leapfrog those companies with the App Store.
Apple Owns Over 90% Mobile Apps (Touch Optimized) Market
In 2009, just a year and a half from launching the App Store, Gartner estimated that Apple owns 99.4% of the mobile apps market, with $4.2 billion dollars in revenue.
With the new class of iPad specific apps that blurs the line between a mobile phone and a laptop (such as iPad iWorks suite), plus broad interest from consumers, business, medical industry, & more, it'll be interesting to see where all these apps take the Apple iPhone / iPod touch / iPad ecosystem.

Related Posts