Myth: Short iPad Queues Show Lack of Interest in Apple Tablet
Apple tablet retail queue: Why the first day iPad lines won't be like the long iPhone queue. The myth that potentially shorter iPad queues show lack of interest in the Apple tablet.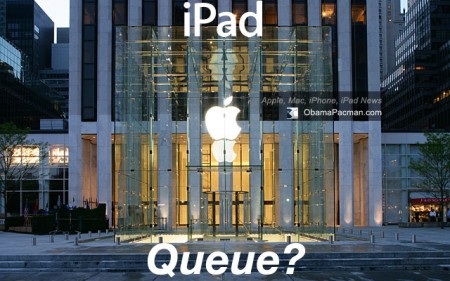 Long iPhone Lines vs. "Short" iPad Lines
Apple's recent successes with the iPhone are sometimes attributed to enthusiastic fans that queue up in long lines ahead of its iPhone releases.
With the initial reports of potentially shorter iPad queues, some pundits are already calling for a lack of iPad fans and the "failure" of Apple's new iPad tablet. However, those people don't seem to realize that there are major differences between the iPhone lines and iPad lines.
Queue: Apple Store iPad Lines
People lined up for hours for the iPhone. Why? The original iPhone first day sales are first come first serve, with no reservation, no home delivery, no third-party availability, resulting in long lines at the Apple Stores.
With the release of iPad for sale on April 3, 2010, Apple thinks different with its retail queue in an effort to reduce potentially hours-long lines at Apple Stores.
How? Instead of selling the iPad only at Apple Stores, the iPad has multiple points of sales and delivery:
Pre-Order Reservation at Apple Retail Store: People with iPad reservations are guaranteed pickup from 9am to 3pm. The reservation is saved for an opening of six hours, so most people with reservations will not be lining up for opening of Apple Store.
Home Delivery: Apple Online Store purchases are delivered to the customer's address (Saturday delivery if available). Those people will not be queuing up at the Apple Store.
Business Store Customer Appointments: Apple Business Store customers with iPad pre-orders can make reservations to bypass most of the queue, if any, from 9am to 3pm. Last week, OP Editor got a phone call from our local Apple Store "Business Team" about setting up a 30 minute business consultation appointment on iPad launch day.
BestBuy iPad availability: Apple announced that "most" BestBuy Stores would have limited number of iPads. Thus, some people without an iPad pre-order might be going to one of about 675 BestBuy stores with Apple store-within-store instead. Those people probably can't queue up at Apple Store at the same time.
Independent Apple resellers (AKA Apple Specialist group), over 150 resellers with over 300 retail locations, might also carry iPad beginning this Saturday, reported Macrumors.
Staggered launch of iPad Wi-Fi + 3G, with the cellular version iPad shipping late April. People ordered the cellular enabled iPad not be in line on iPad launch day. (Some estimate puts about half the iPad pre-orders are for the iPad Wi-Fi + 3G.)
More staggered shipments of recent iPad orders: iPad orders made in the past weeks won't be arriving on launch date (Apple lists recent iPad Wi-Fi order ships by April 12th).
Shorter iPad Lines Are Expected
In other words, instead of having all those customers all line up at Apple Store like the iPhone release, most people don't have to line up to get the iPad on the April 3 launch day.
Even with the initial demand of iPad is higher than that of original iPhone, due to the structure of the iPad launch, the queue at Apple Store for launch day iPad should be much shorter than the lines for iPhone.
The potential shorter lines at Apple Stores leave room for the new iPad set up service Apple is providing to its customers, which was announced earlier this week: "We'll have Specialists ready to help you set up your iPad, free workshops, and more." Most people will know how to use an iPad / iTunes due to the huge number of iPod and iPhone users, but the service might be useful for those who are getting the Apple table due to the glowing iPad reviews.
Seems to be a great effort by Apple to improve customer satisfaction further, beyond its current market leading position.
Reference
Image: Apple Store Fifth Avenue [apple], used for concept illustration. It is NOT of iPad launch day queue.

Related Posts