LOLCAT APPROVED: Cat Piano iPhone iPad App
Want to prank, confuse, or talk to your cat? There's an awesome App for that. For iPhone and iPad.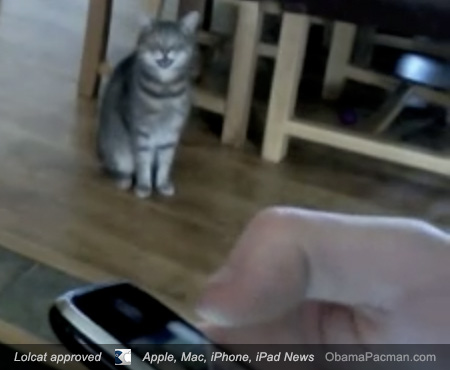 Most entertaining instrument ever. Cat Piano for iPhone & iPad [itunes link] is a piano of cat meows that drives felines and non-lolcat-initiated wild.
Video: Cat Piano iPhone iPad App
Here's a hilarious feline reaction to Cat Piano. The cat talks back!
App developer George Talusan is not lying when he says: "Cat respond to the sounds, especially Furball." The App has 10 cat meows:
Best App Ever? Turn a boring cat into a talking lolcat. It even has a grand piano mode. And yes, the keyboard has multi-touch polyphonic chords that plays sounds simultaneously!
Get it here:
Cat Piano [itunes link] Universal iPhone iPad App
via (with more videos)
Hate your pet? Then you'll LOVE Cat Piano [macenstein]

Related Posts